Microsoft Surface 2 and Surface 2 Pro tablets: What you need to know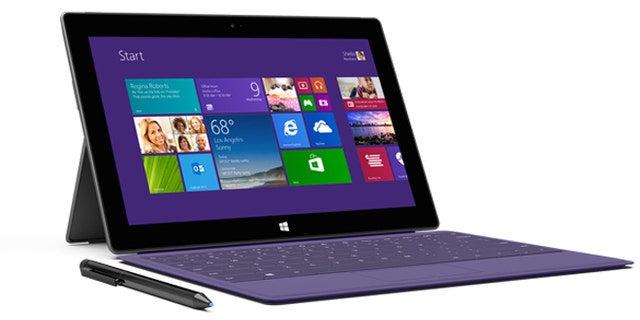 On Monday, Microsoft introduced revamped versions of its Windows tablets, the Surface with Windows RT and Surface Pro, appending a 2 to their names and dropping RT from the Surface—though the Surface 2 still uses the stripped-down Windows RT operating system. The tablets' improvements are evolutionary, but we saw some real innovation in the newly announced accessories.
Find the best model for your needs and budget with our tablet buying guide and Ratings.

Specs
Although the generation-two tablets look similar to the original versions, Microsoft has upped the specs in a number of areas on both versions:
Speed: The Surface Pro 2 uses an Intel fourth-generation i5 Haswell chipset, which Microsoft claims will make it perform as well as a regular laptop; the Surface 2 uses a quad-core Nvidia Tegra 4 (like other premium Android and Windows RT tablets).
Battery life: Both models claim longer battery life than their predecessors.
Display: The Surface 2 now has a full HD display, like the Pro version.
Memory and storage: The Surface Pro 2 comes with up to 8GB of memory and 512GB of internal storage.
Connectivity: The Surface 2 has a faster USB 3.0 port than its predecessor.
Cameras: The Surface 2 has a 3.5-megapixel webcam and a 5-megapixel rear camera.
Software: The Surface 2 will ship with Windows 8.1 RT, and the Surface 2 Pro with Windows 8.1 Pro. The Surface 2 will add Outlook RT to its included suite of Office 2013 RT programs.
Versatility: Both models have a built-in two-position easel "kickstand," making use on one's lap more comfortable.
Accessories and extras
As for those innovative accessories, the Surface 2 family is compatible with newly designed snap-on keyboard covers with backlighting that senses hand proximity. The membrane keys on the Touch Cover 2 ($120) use a matrix of pressure sensors to support gesture control and future non-eyboard applications.
The Type Cover 2 ($130) has separate tactile keys and is more rigid and quieter than the previous version. The Power Cover ($200) is like the Type Cover, but has a built-in battery for additional tablet usage time on battery power. The Bluetooth Wireless Adapter ($60) lets you use the keyboard remotely.
The Surface Pro 2 can use a Docking Station ($200) that provides a DisplayPort connection to an external monitor, plus Ethernet, speakers, power, and additional USB devices.
Microsoft is also providing a year of free Skype international calling and access to Skype's network of public Wi-Fi hotspots. (Surface tablets are Wi-Fi-only.) Both the Surface 2 and Surface 2 Pro also get 200GB of online cloud storage on Microsoft's SkyDrive service, free for 2 years.
The company also announced a kit that DJs and other music fans will appreciate. Compatible with the Surface 2, Surface Pro, and Surface Pro 2, the kit works with a new music remix app. More details are due next month.
The Surface costs $450 with 32GB storage and $550 with 64GB. The Surface Pro will cost $900 with 64GB storage, $1,000 with 128GB, $1,300 with 256GB, and $1,800 with 512GB. They're available to preorder now and will show up in stores and ship on October 22.
—Dean Gallea
Copyright © 2005-2013 Consumers Union of U.S., Inc. No reproduction, in whole or in part, without written permission. Consumer Reports has no relationship with any advertisers on this site.