Microsoft introduces new Surface Laptop, system upgrades at EDU event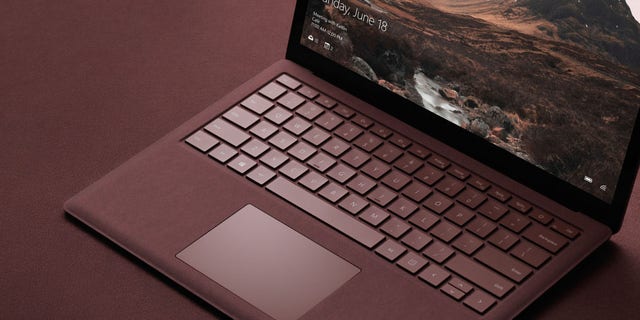 Microsoft has unveiled its new Surface Laptop, which is specifically designed for college students.

Leaked on Monday night and officially announced and introduced on Tuesday at Microsoft's EDU event, the news Surface Laptop serves as the flagship device that will run Windows 10 S, an operating system that is specifically aimed at the education industry, according to Engadget.
"It's basically a straightforward notebook, albeit one with the Microsoft's slick Surface aesthetic," wrote Engadget in an update.
MICROSOFT MAY BE ABOUT TO TAKE ON GOOGLE CHROMEBOOKS, REPORTS SAY
Windows 10 S will service web apps and software through the Microsoft Store, and will emphasize the device's security and battery life, according to Engadget.
The Surface Laptop features a classic clamshell shape and a keyboard that is covered with a cloth-like material called Alcantara. CNET noted that the 13.5-inch Surface Pro is a thin machine that weighs 2.76 lbs., making it lighter than a 13-inch MacBook Pro.
The laptop also offers 14.5 hours of battery life due to Windows 10 S' battery savings and its more efficient hardware, according to Engadget.
Engadget added that there are no visible speaker holes or grills on the Surface Laptop because they have been fitted behind the keys, "which Panay claims delivers a more enveloping sound," wrote Engadget.
MICROSOFT TEASES NEW MINECRAFT MARKETPLACE, CURRENCY
The Surface Laptop will be available on June 15th starting at $999 for the Core i5 model, according to Engadget. A model that runs Intel's Core i7 will also be made available.
On its website, Microsoft also announced that Windows 10 S would be available for its partner devices including Acer, ASUS, Dell, Fujitsu, HP, Samsung, and Toshiba.
In addition to a code builder for "Minecraft: Education Edition," Microsoft wrote that Office 365 for Education added Microsoft Teams, a "digital hub that encourages active learning and redefines how teachers and students learn and collaborate together," according to Microsoft.