Microsoft announces release date for most expensive tablet ever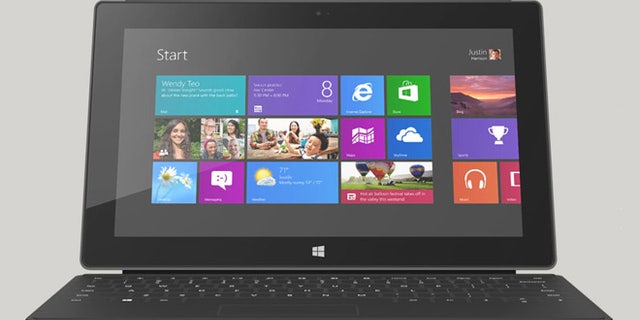 NEWYou can now listen to Fox News articles!
You could get the best iPad money can buy for $829, the one 64GB of storage space and LTE connectivity.
Or you could spend $70 more and get Microsoft's divisive Surface Pro -- which, by the way, doesn't even include the company's slick new keyboard cover.
Microsoft on Tuesday announced plans for the latest member of the Surface family, the Intel-powered Surface Windows 8 Pro, which goes on sale February 9, 2013 in the U.S. and Canada.
The full-featured Windows tablet will come in 64GB and 128GB flavors. One of the primary criticism of the Windows RT tablet, which can only run Windows 8-optimized Metro software, was the lack of apps. The Pro tablet is powered by an Intel Core i5 processor meaning it can run the gamut of Windows software, from everything on Windows 8 to current Windows 7 desktop applications.
That includes Photoshop, Microsoft Office and even power-hungry video games can run on the Surface Pro.
At 0.53 inches thick and weighing two pounds, the Pro is slightly thicker and heavier than its RT counterpart (0.37 inches thick, 1.5 pounds). The Surface Pro comes with 4GB of RAM and 1,920×1,080 HD display. The energy-guzzling Intel chip also means a shorter battery life, closer to five hours versus the ten typical among tablets like the iPad.
There's more. Microsoft's x86 beast of a tablet may be the most expensive in the world. Starting at a whopping $899, it's more expensive than the best Apple has to offer. And that's without the company's intriguing Touch Cover keyboard case that transforms the Surface Pro into a veritable laptop replacement.
Adding the Touch Cover adds another $129.99 to the bill, although users now have three new limited edition colors to choose from: red, magenta and cyan.
"The response to Surface has been exciting to see," Panos Panay, general manager of the Microsoft Surface team, said in a statement. "We're thrilled to continue growing the Surface family with the availability of Surface Windows 8 Pro on Feb. 9 and by increasing the number of places customers can experience Surface firsthand."
Microsoft is also expanding the availability of its Windows RT Surface tablet to an additional 13 markets worldwide including Ireland, Italy and Spain. The company has yet to release sales figures on any of its Surface products.