Man Claims iPhone's 'Find My Friends' Feature Found His Cheating Wife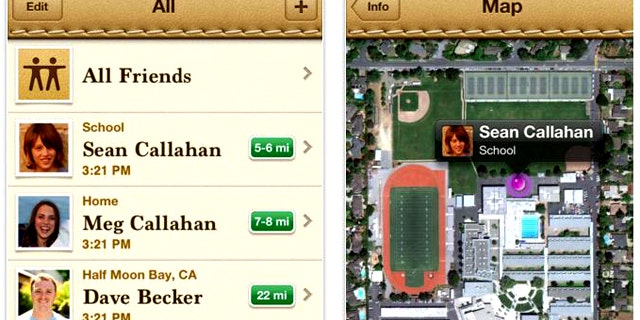 How do you like those Apples?
An unnamed New Yorker claims Apple's new "Find My Friends" app -- which uses GPS to locate any of your friends that have allowed you access to their location -- led to a stunning revelation: His wife has been cheating on him.
"I got my wife a new 4S and loaded up Find My Friends without her knowing. She told me she was at her friend's house in the East Village. I've had suspicions about her meeting this guy who lives uptown. Lo and behold, Find my Friends has her right there."
The user claims his wife told him she was going to the Meat Packing District, a location in the lower West Side of Manhattan. Instead, the Find My Friends feature indicates the woman was on 2nd and 65th St. -- a far different neighborhood that would be difficult to confuse.
"She said she is in meat packing district which is on 12th street. I don't think so," the user wrote, uploading screen shots to the website that appear to corroborate his story.
Others were quick to doubt the post by "ThomasMetz," who appears to have created the user account just to post this single story.
"Am I the only one thinking the times of these pics and posts is a little suspicious?" one wrote. Other readers were less cautious.
"BS. Brand new account. He breaks the law by using a tracking device … and he shares it with the world on a forum he never used before? And, using a name that seems real. It's BS. Period," one user wrote.
CNET writer Chris Matyszczyk, who discovered the post on the MacRumors forum, concluded that the new feature doesn't bode well for the future of marriage. Will happy couples one day reword their vows?
"Till death do us part. Or till I discover that my sleazy little spouse has been secretly following my movements with an adorable little Apple app."