Macron campaign targeted by Russia-linked hackers, experts say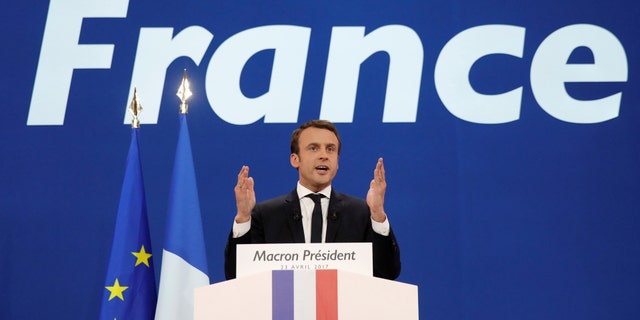 The campaign of French presidential candidate Emmanuel Macron has been targeted by the shadowy Pawn Storm hacking group, according to security researcher Trend Micro.
Pawn storm is also known as Fancy Bear, or APT28. Last year two U.S. cybersecurity companies cited Fancy Bear as a likely perpetrator of the high-profile DNC hack. The group was also linked to the recent hack of international athletics body IAAF.
While Trend Micro's report did not connect the attack to the Kremlin, other experts have said that the hacking group is affiliated to the Russian government.
DALLAS HACK: DID A WHITE-HAT HACKER SET OFF CITY EMERGENCY SIRENS?
Trend Micro found four different domains similar to the Macron campaign's en-march.fr, all registered by the same registrant in March and April 2017. The domains were likely used by Pawn Storm to attack the campaign, according to a Trend Micro statement emailed to Fox News.
Hackers targeted the Macron campaign from March 15, 2017 to April 17, 2017, apparently harnessing credential phishing and also attempted to infect the campaign with malware. "Generally speaking Pawn Storm is known to have very good social engineering skills," said Trend Micro.
The hacking group is known for launching extensive attacks. "Like the name suggests Pawn Storm will attack from different sides," Trend Micro explained. "For example they have been seen to attack both corporate e-mail addresses as well as private e-mail addresses of key employees of organisations in earlier attacks."
FOR THE LATEST TECH FEATURES FOLLOW FOX NEWS TECH ON FACEBOOK
The Macron campaign's digital chief, Mounir Mahjoubi, confirmed the attempted intrusions late Monday but said they had all been thwarted. "It's serious, but nothing was compromised," he said.
Matthew Gardiner, cybersecurity strategist at email security specialist Mimecast, says that the use of spear-phishing via similar domains is a now a common hacking tactic. "This has become part of the standard operating procedures for both cybercriminal and nation-state attackers," he explained, in a statement emailed to Fox News.
The French presidential race is not yet over. Macron faces far-right rival Marine Le Pen in France's presidential runoff on May 7. Macron favors a strong European Union, while Le Pen wants to pull France out of the bloc, weakening it.
The Associated Press contributed to this article.
Follow James Rogers on Twitter @jamesjrogers