MacBook Pro Improvements: Ivy Bridge Processors, Nvidia GPUs, USB 3.0, Same Price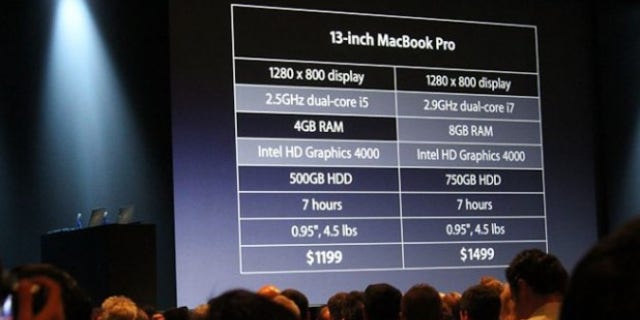 Just announced at WWDC, the 2012 MacBook Pro is said to be furnished in the same casing as last year's MacBook Pro but now it'll pack faster, more desirable guts. The new laptops get Intel's Ivy Bridge chips and Intel HD Graphics 4000 for improved performance as well as longer battery life and USB 3.0 (just like the ones available on the new MacBook Airs). The resolution will stay the same at 1440 x 900, and both the 13- and 15-inch systems will have optical drives, too. The 15-inch model will also have Nvidia's new Kepler GeForce GT650M graphics, and 1GB of memory, a switch from the 2011 15-inch MacBook Pro, which used AMD graphics. Both should also get up to 7 hours of battery life.
The refreshed MacBook Pros will hit stores for the same prices as the previous models--$1,199 for a 13-incher and $1,799 for the 15-inch. So when can you pick up one of these bad boys? They ship as early as today.