M16 being replaced? Army testing new rifles, bigger ammo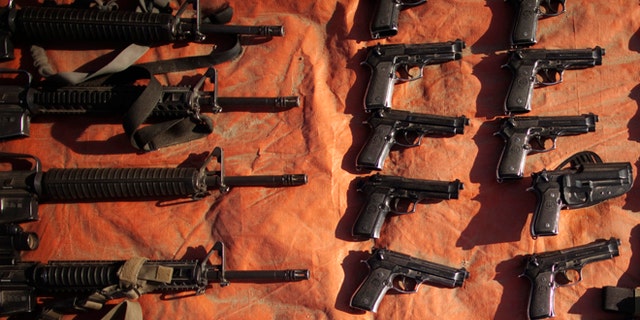 Army researchers are testing half a dozen ammunition variants for a new prototype assault rifle that fires a larger round in order to introduce a possible M16/M4 replacement by 2020, according to Army Times.
The goal is to create a new light machine gun and inform the next-generation individual assault rifle/round combo, the report says. The weapon designs that are being tested will be "unconventional," officials said.
Intermediate calibers being tested include the .260 Remington, 6.5 Creedmoor, .264 USA as well as other noncommercial intermediate calibers, including cased telescoped ammo, Army officials said.
AIRCRAFT CARRIER TECH MAKES LANDINGS FOR FIGHTER PILOTS SAFER
Aircraft carrier tech makes landings for fighter pilots safer
If selected, the weapon could resolve a close-quarters weapons debate about calibers that has influenced military small arms.
"There is a long-running debate, going back almost 100 years now, about the optimal, optimum small arm," said retired Maj. Gen. Robert Scales, author of the 2016 book "Scales on War: The Future of America's Military at Risk."
If successful, the new rifle and round combination would give troops a weapon they can carry with about the same number of rounds as the current 5.56 mm but with greater range and accuracy in their firepower — with little change in weight.
The new rifle would likely replace the M16/M4 platform, which has been in the hands of troops since the 1960s and undergone multiple modifications and upgrades.