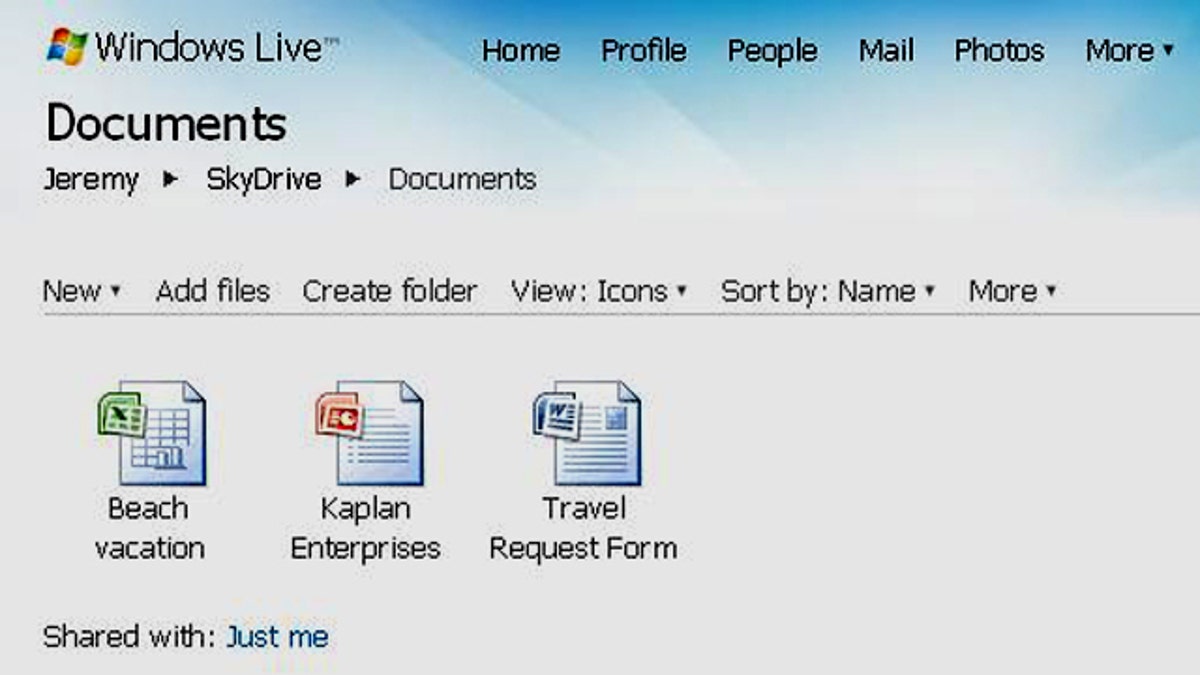 Microsoft Office has been the best selling piece of software for five years running. How does the company plan to compete when it releases Office 2010 Wednesday? Make most of it available for free.
To counter the popularity of Google's online Docs application, which bundles a word-processing tool, spreadsheet editing, presentation functionality and more into one free app, Microsoft is adding its own free online component: Web apps.
The Office 2010 suite, which Microsoft will release to business customers tomorrow and to consumers in early June, will include the ability to create, edit, view and share files online using the company's SkyDrive website. In fact, you won't even need to buy the program to use the online tools; Microsoft will make the majority of Office functionality available for free to anyone -- whether they've bought the new suite or not.
To use the online functions, simply visit SkyDrive.com (or the Facebook-ified version at docs.com). You can also save a file from one of the Office 2010 apps directly to SkyDrive. Then visit the file from any browser, anywhere you go, and click the edit button to bring up editing options. The free versions of these apps don't include all of the functionality you'll find if you buy Office 2010, but most users will probably find it sufficient.
So which is easier to use, Google Docs or Office 2010? Both are relatively straightforward programs, though Office adds some neat extras, such as the ability to broadcast a PowerPoint presentation across the Internet. Office Web Apps have a few rough edges still, but once ironed out they'll be very robust programs -- especially considering the price.
There's more to Office 2010 than just that, of course. Outlook fans will appreciate a new Social Connector feature, which brings the e-mail and calendaring program into the world of social networking. It lets you sync contact data with popular social networks, sharing status, pictures, shared documents and more.
Office 2010 Also adds a very neat "broadcast" function for PowerPoint presentations. The feature uploads your presentation to a secure website and gives you a unique URL to it; pass the URL to your friends or colleagues to create an impromptu presentation from wherever you are. It's a very convenient way to collaborate -- though to start such a presentation, you'll need to buy Microsoft Office 2010.
There are many other smaller improvements, of course, such as Excel's Sparklines -- a new data visualization technique that adds little trend lines into individual cells -- new text effects for Word, video editing functions in PowerPoint and so on.
But the biggest change users will encounter is hardly a new one at all. When Microsoft released Office 2007, the company rewrote the rules for interfacing software with "the Ribbon," a new user interface paradigm that bubbles up contextual commands -- in theory, just the ones you'll want for whatever you're doing.
The interface is polarizing: You either love it or can't figure out how to use it. And that's part of the reason MS didn't have a gigantic hit on its hands with the last version of its productivity suite. With Office 2010, the Ribbon expands onto all of the Office apps. Learn to love it, in other words -- and embrace the online future of Office.
Office 2010 sells in several versions. Office Professional, which includes Word 2010, Excel 2010, PowerPoint 2010, OneNote 2010, Outlook 2010, Publisher 2010, Access 2010, and premium technical support is priced at $499 for the full boxed copy or $349 for the product key card.
Office Home and Business sells for $279 in a box, or $199 for a product key that lets you download and activate the app online. This version includes Word 2010, Excel 2010, PowerPoint 2010, OneNote 2010, and Outlook 2010.
Office Home and Student is priced at $149 for the boxed version and $119 for the product key card and includes Word 2010, Excel 2010, PowerPoint 2010, OneNote 2010, and the Office Web Apps. It is available in a Family Pack, allowing use on three PCs in one home.