Leap Motion Gesture Controller Heads to Best Buy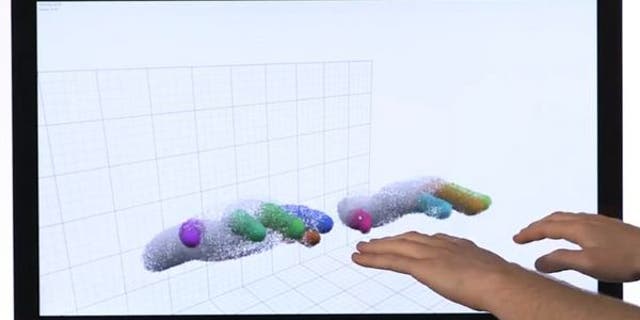 Leap Motion today (Jan. 16) announced its gesture-controlled device — designed to replace the computer mouse — will be available at Best Buy stores this spring.
The much-anticipated gadget lets you control your computer using only your hands. Better yet, the Leap Motion controller is breakthrough technology priced at an affordable $70.
The USB device plugs into your computer — PC and Mac — and then creates a bubble of 3D working space in front of the screen. Image sensors and infrared light translate even the smallest gestures into signals your computer can read — no awkward arm-waving like we've seen in other systems. For instance, you can sign your name in the air with your finger and your signature will appear on the screen. Read more: New Chip Adds Kinect-Like Control to More Gadgets.
The company says its technology can track movements up to 1/100th of a millimeter — smaller than the tip of a pin — with no visible lag time. The Leap Motion controller has a 150-degree field of view, and tracks both hands and all 10 fingers at up to 290 frames per second. The controller is no bigger than a stick of gum, about 3 inches long, an inch wide and1/2 inch thick.
Leap Motion recognizes natural gestures within its active space. It can be used for ordinary mouse and cursor tasks such as scrolling and highlighting, but can also support much more complex movements. Since its release to developers last spring, more than 12,000 developer kits have been sent out to create compatible software. So far, most of the kits have been sent to game developers and music and video software designers.
Remember the block-stacking game Jenga? Leap Motion developers have made a similar game, Block 54, that shows how the same sort of fine movements you use to carefully remove blocks from a Jenga stack are identical to those used for playing Leap Motion's stacking game.
The company says a wireless version is in the works, as well as devices that will work with mobile devices. An app store will launch at the same time the units are available to ship. Leap Motion hasn't locked down a ship date yet, but customers may preorder the device on the company website now or from Best Buy beginning next month.