Kids Tracked More Closely Online Than Adults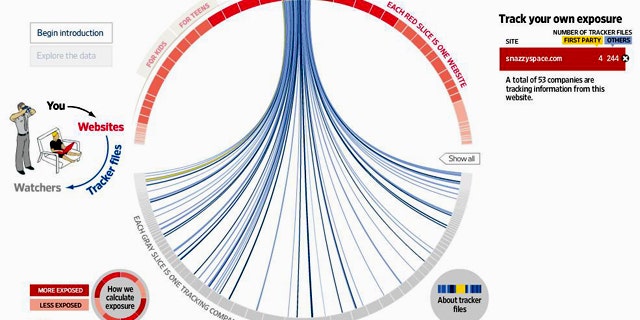 A Wall Street Journal investigation into online privacy has found that popular children's websites install more tracking technologies on personal computers than do the top websites aimed at adults.
The Journal examined 50 sites popular with U.S. teens and children to see what tracking tools they installed on a test computer. As a group, the sites placed 4,123 "cookies," "beacons" and other pieces of tracking technology. That is 30% more than were found in an analysis of the 50 most popular U.S. sites overall, which are generally aimed at adults.
The most prolific site: Snazzyspace.com, which helps teens customize their social-networking pages, installed 248 tracking tools. Its operator described the site as a "hobby" and said the tracking tools come from advertisers.
Starfall.com, an education site for young children, installed the fewest, five.
The research is part of a Journal investigation into the expanding business of tracking people's activities online and selling details about their behavior and personal interests.
The tiny tracking tools are used by data-collection companies to follow people as they surf the Internet and to build profiles detailing their online activities, which advertisers and others buy. The profiles don't include names, but can include age, tastes, hobbies, shopping habits, race, likelihood to post comments and general location, such as city.
Read the full report at the Wall Street Journal.