Jobs' iPhone Defense Prompts New Debate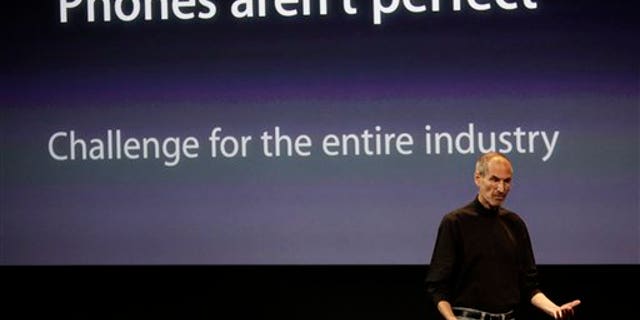 Steve Jobs's attempt to close the door on criticism of Apple Inc.'s latest iPhone ignited another debate: Are competing smartphones just as prone to reception problems or does Apple have a unique design flaw?
Jobs, in a news conference Friday, conceded that reception on the new iPhone 4—which has antennas housed in an exposed metal band around the phone's outside edge—can be degraded by the way a user holds the device. He also said the new iPhone drops slightly more calls than its predecessor.
But Jobs insisted that the problem, which occurs in areas with relatively weak cellular coverage, affects few users and is shared by other smartphones.
Apple showed videos of tests it conducted that indicated similar signal drops when phones by Research In Motion Ltd., HTC Corp. and Samsung Electronics are grasped by users.
His arguments were swiftly rejected by competitors, including RIM and Motorola Inc., which said they have deliberately avoided Apple's approach of locating antennas on the phone's edge. Some other cellular-industry veterans also called Apple's antenna design a mistake, noting that it creates a uniquely sensitive spot on the lower left side that causes signals to degrade when touched with a hand or a finger.
"The proof of that [it being a flaw] is that it is so easily fixed," said Martin Cooper, an engineer who helped lead Motorola's development of handheld cellphones in the 1970s. He noted that Apple has said adding a case largely addresses the attenuation issue, and predicted the company will find a simple way to isolate antennas in future models to eliminate the problem without a case.
Apple CEO Steve Jobs said Friday "we are not perfect" during a presentation at the company's Cupertino, Calif. headquarters.
Antenna experts agree with Mr. Jobs's statements that all cellphones are affected to some degree by a user's touch. For that reason, designers typically go to considerable lengths to minimize the antenna's contact with the hand, in some cases adding duplicate antennas to reduce the potential signal weakening that engineers call attenuation.
Continue reading at The Wall Street Journal