Is Samsung's loss a win for Apple and Google phones?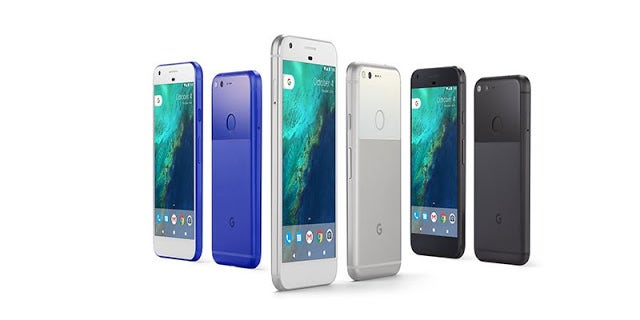 With Samsung's Galaxy Note 7 effectively dead for now, Google phones are emerging as a strong alternative, along with the iPhone 7 Plus.
The first pure Google-branded phones could not have arrived at a better time. "Google's new Pixel phone will be an attractive option to high-end Android phone owners," Bob O'Donnell, president and founder of TECHnalysis Research, told FoxNews.com in an email.
The larger version, the 5.5-inch Pixel XL, is priced at $869 (128GB), very close to the 64GB Galaxy Note 7, which was priced at around $850 at most U.S. carriers.
Like the Note 7, the Pixel XL sports an AMOLED display with a 2,560-by-1440 resolution. And other internal specs are similar, if not identical to, the Note 7, including the latest Qualcomm Snapdragon quad-core 820 processor (Google lists the processor as the "821" for Pixel), 4GB of RAM, a USB-C connector, and a 3.5mm headphone jack.
And both have advanced 12-megapixel-class cameras. But Google is claiming its camera takes image quality to new level, with a "best-ever" 89 DxOMark Mobile score, a respected yardstick for photo quality.
Battery life should also be similar: both claim all-day (at least) battery life, and Google says you can get up to seven hours of battery life from just a 15-minute recharge.
Another upside to the Google Pixel phone is the option for Project Fi, a wireless service from Google, which automatically connects you to the best available signal, whether that's Wi-Fi or one of three 4G LTE partner networks. That can result in substantially lower monthly charges.
Probably the biggest problem Google's new phones face at the moment is supply. All versions of the Pixel XL are now listed as "out of stock." So, as of October 12, when you order one, you are placed on a waiting list.
Google Nexus 6P and the iPhone 7 Plus should benefit too
The 5.7-inch Google Nexus 6P, co-branded with Huawei, has also emerged as a strong alternative.
After the Note 7 recall, "the big winner was the Google Nexus 6P," said Mobile analytics firm Apteligent. The Nexus 6P was followed by the LG G5, according to Apteligent.
The Nexus 6P, like the Note 7, has a large 5.7-inch AMOLED display, and a 64GB version is available on Amazon for $549 (or less, depending on Amazon's pricing which can fluctuate daily), almost a steal for a "phablet"-class phone.
TECHnalysis' O'Donnell believes the shift from the Note 7 "will be spread amongst several [phone makers]…so we'll also see some benefit to the iPhone 7 as well," he said.
And Morgan Stanley's Katy Huberty said last month that "over 30% of iPhone demand in recent quarters has come from ex-Android users, and the Samsung Galaxy Note 7 battery issues and recall might drive additional demand, especially for the iPhone 7 Plus," she said in a note to investors.
The 5.5-inch iPhone 7 Plus, also backordered, is the latest large phone from Apple boasting a fast new Apple processor and an advanced camera with 2X optical zoom. The 128GB version is priced at $869.
"Lots of high-end and flagship [phones] could be candidates," Tuong Nguyen, an analyst at market researcher Gartner, told Foxnews.com.
Nguyen pointed to other low-cost 5.5-inch alternatives including the 64GB ZTE Axon 7 (priced on Amazon at around $500) and the 32GB Motorola Z, priced at $624 at Verizon.