'Iron man' sets new jet suit speed world record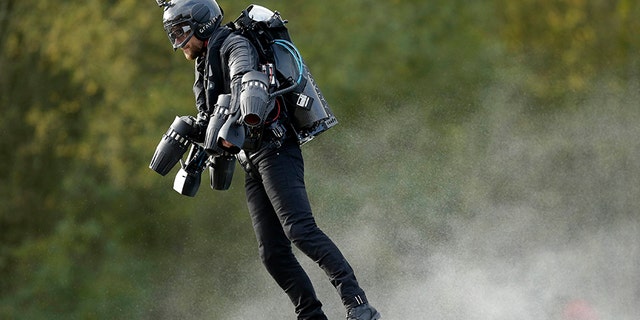 And the Guinness World Record for Fastest Speed Over 100 Meters in a Body Controlled Jet Engine Powered Suit goes to …
Richard Browning, who soared above the earth in Reading, England, last week in his "Iron Man" suit — a souped-up jacket with six kerosene-filled gas turbines, each packing 48-and-a-half pounds of thrust.
PYRAMID DISCOVERY: SCIENTISTS USE COSMIC RAYS TO FIND MYSTERIOUS CHAMBE INSIDE ANCIENT EDIFICE
Browning, the founder and chief pilot of Gravity Industries, hit a speed of 32.02 miles per hour in his third timed run. And it was no easy feat, because his contraption has no steering device — it's controlled by human body movement alone. He had to master core strength exercises to make sure he could balance and hold his position while flying.
What's next? Maybe landing on his own two feet. Browning concluded his run by plopping down gently into a lake.
SECRET AGENT FISH? ROBOT INFILTRATES AQUATIC SCHOOLS, INFLUENCES THEIR BEHAVIOR
But the record's his, and his alone. What better way to celebrate Guinness World Records Day?