Iran, North Korea and Venezuela turning to cryptocurrency to bypass US sanctions, experts warn
America's rivals are increasingly turning to bitcoin-style cryptocurrencies after their economies were brought to their knees thanks to crippling U.S. sanctions, experts have warned.
Iran, North Korea, Russia and Venezuela are all investing in the technology in an attempt to counter American economic might – and an expert says these nations are forming alliances through the technology.
A form of digital money, cryptocurrency uses encryption to secure transactions and control the creation of new units. It uses cryptography, a form of secret coding originating from the Second World War, to process transactions securely. Its major appeal is it is untraceable.
U.S. sanctions work by placing bans on dealings and transactions with persons, nations and companies.
These prohibitions are often enforced with the help of mainstream financial institutions.
But cryptocurrencies do not operate within this established system. In fact, bitcoin and other cryptocurrencies were invented in part to sidestep the existing regulated financial system.
This means nations like Iran using or controlling such a currency would allow it to bypass certain measures, such as a ban on buying U.S. dollars or even facilitate arms deals.
In May, the United States pulled out of a deal to lift sanctions against Iran in return for curbs on its nuclear program – a plan President Donald Trump has repeatedly blasted.
HACKER STEALS CRYPTOCURRENCY FROM MYETHERWALLET USERS
Soon after, Mohammad Reza Pourebrahimi, the head of the Iranian Parliamentary Commission for Economic Affairs, spoke about cryptocurrencies as a way for countries to avoid U.S. dollar transactions - as well as a possible replacement of the SWIFT international payment system.
And Alireza Daliri, a senior science and technology official of Iran's Presidential Office, said: "We are trying to prepare the grounds to use a domestic digital currency in the country.
"This currency would facilitate the transfer of money (to and from) anywhere in the world.
"It can help us at the time of sanctions."
Darren Parkin, editorial director of cryptocurrency news website Coin Rivet, described how the adoption of cryptocurrencies is helping to push economic alliances between these states.
He pointed to the example of Iran and Russia working together to overcome the sanctions that affect them both.
He told Fox News: "The problem the U.S. has is if they are dealing with fiat currency (currency that a government has declared to be legal tender) they can monitor the effect of the sanctions.
BITCOIN IS LEADING TO A HUGE UPSWING IN MONEY LAUNDERING, NEW RESEARCH SAYS
"But if countries use cryptocurrency they have fallen below the radar of what the U.S. can see.
"They're being pushed underground."
Venezuela also reportedly received help from Moscow when it was hit with sanctions, leading to food shortages, soaring prices, a healthcare collapse and a crime spree.
In February the South American nation launched a new cryptocurrency called petro that Nicolas Maduro, the socialist leader of Venezuela, described as 'kryptonite' against the power of the U.S. government.
An anonymous executive at a Russian state bank claims the Kremlin oversaw the creation of the petro after President Vladimir Putin signed off on it last year.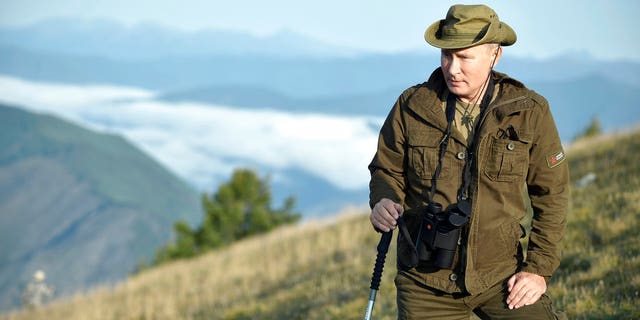 The source told Time: "People close to Putin, they told him this is how to avoid the sanctions.
"This is how the whole thing started."
Last month Vladimir Gutenev, the first deputy head of the economic policy committee of the State Duma, said Russia should conduct transactions in cryptocurrencies linked to the value of gold to frustrate "U.S. attempts to thwart deals on Russian weaponry and civilian goods."
"And I'm sure that this will be a very interesting option for China, India, and other states as well," he added.
Meanwhile, Priscilla Moriuchi, a former NSA cybersecurity official, told The Hill North Korea earns an estimated $15 million to $200 million by mining and selling cryptocurrencies.
Pyongyang's army of hackers is also believed to have stolen cryptocurrency from organizations and individuals throughout the world.
As if states opposed to the U.S. exploiting cryptocurrency was not concerning enough, analysts have warned bitcoin and other cryptocurrencies are already being used to secretly move cash between sympathizers and terror cells throughout the world.
Nikita Malik, the author of a recent report by the UK-based Henry Jackson Society about online extremism called Terror In The Dark, said: "The authorities must move urgently to increase their knowledge of terrorists' activities in cyberspace and their use of technologies such as bitcoin.
"By fundraising and making financial transactions online, terrorists and other criminals can avoid interference from financial regulators or other third parties who might otherwise take steps to prevent their operations.
"Regulation in this area has to move carefully if we are to balance liberties with guarding against threats to our security – but the time has come to deny extremists the space they need online to plan fresh atrocities."
A spokesperson for the U.S. Department of the Treasury told Fox News: "While Treasury doesn't comment on specific investigations, we are aware of reports regarding use of cryptocurrency to evade sanctions. We continue to monitor evolving trends and issue guidance to the public on how to best prevent surreptitious use of these new payment exchanges.