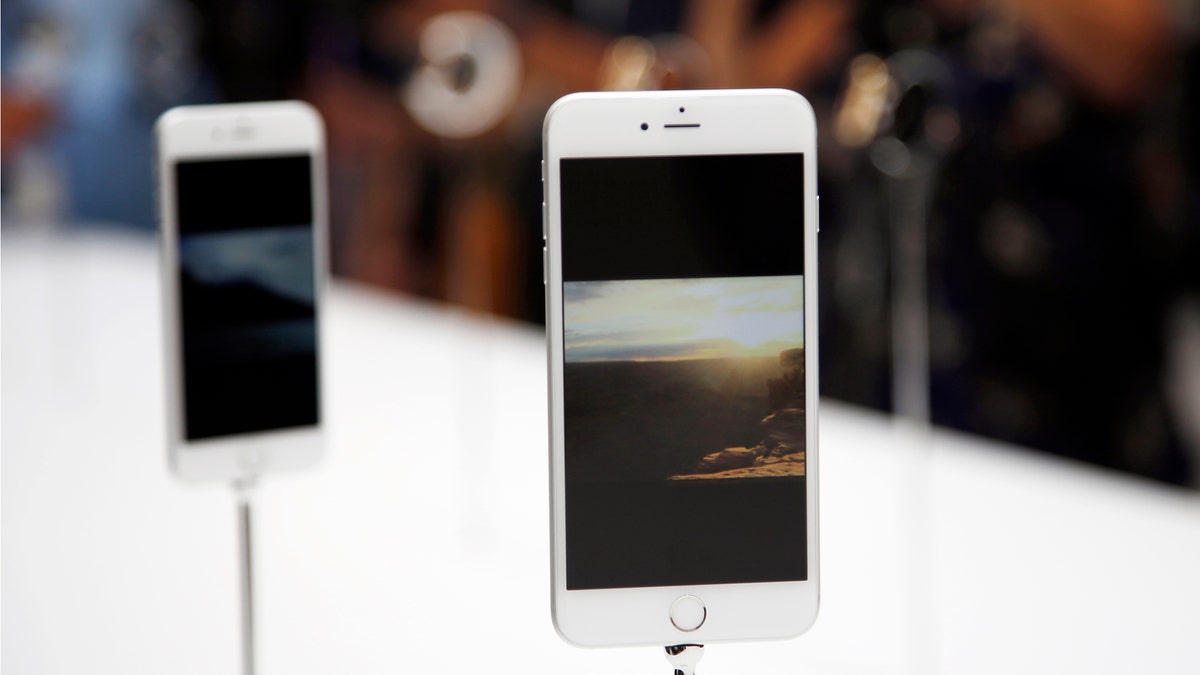 Apple has finally stepped up to big-screen smartphones with the iPhone 6 and iPhone 6 Plus. Both devices sport sharp new Retina HD displays, a much more advanced iSight camera and a fast new A8 processor. On sale Sept. 19, the 4.7-inch iPhone 6 will start at $199 for 16GB and the 5.5-inch iPhone 6 Plus will start at $299 for 16GB. Here's a quick look at the top new features.
All-new curved design in two sizes
The iPhone 6 sports a curved glass front that meets an anodized aluminum back. The Apple logo itself is stainless steel. The new rounded edges look sleek. More important, the iPhone 6 devices are even slimmer than the iPhone 5s. The iPhone 6 is 6.9 mm thick and the 6 Plus is 7.1 mm thick. For comparison, the iPhone 5s measures 7.6 mm thick.
MORE: Top 10 Smartphones
Retina HD Display
The iPhone 6 has a new Retina HD display made of ion strengthened glass. There's an improved polarizer, photo aligned IPS liquid crystal screen and thinner backlight.
The 4.7-inch iPhone 6 has a resolution of 1344 x 750 pixels (326 ppi), while the Plus offers a full HD resolution of 1920 x 1080 pixels. These screens are not as sharp as competing smartphones that are now pushing quad HD, but resolution is only part of the image quality story.
One-Hand Friendly
Those worried about the iPhone 6 being too cumbersome to use will find some welcome amenities. For example, in Safari, you can move backward and forward with a swipe on the side of the screen. There's also a new gesture called reachability. Just double touch the Touch ID button, so you can reach anything at the top of the display without moving the phone around in your hand. Plus, the sleep/wake button is on the right side.
The iPhone 6 Plus goes further with software, enabling dual-pane mode in various applications. For instance, you can see your inbox on the left and the content of your messages on the right. You can even view the home screen in landscape mode, but just on the Plus.
A8 Processor
Faster and more efficient, the A8 processor inside the iPhone 6 packs 2 billion transistors on a chip. The CPU is 25 percent faster and the graphics are 50 percent faster. To demonstrate the graphics oomph, Super Evil Megacorp demoed a new MOBA game called Vain Glory. The title can render 100 animated characters at once, complete with complex lighting effects.
MORE: 5 Ways to Free Up Storage on Your iPhone
Fitness buffs will appreciate the built-in barometer, which now works in tandem with the M8 processor to determine elevation. That means the iPhone 6 can determine how many steps you've taken in a day.
Apple Pay
Apple will let you use your iPhone 6 as your digital wallet. You can add credit cards just by snapping a photo but can also use your existing iTunes payment info. Apple says it promises the experience will be fast, secure (using a dedicated hardware element) and private. Merchants supposedly won't know what you bought, where you bought it or how much you paid.
American Express, MasterCard and Visa have signed up as partners, and you'll be able to use Apple Pay at more than 220,000 U.S. merchant locations. Early partners include Macy's, Bloomingdales, Walgreens, Duane Reade, Subway, McDonalds (including drive-throughs) and Whole Foods.
Apple Pay will work online, too, such as with Target and Panera. Apple is also bridging the digital and physical worlds; you'll be able to use OpenTable to pay for your check at participating restaurants.
Improved iSight and FaceTime HD Camera
Although the 8-MP iSight camera in the iPhone 6 sticks with the same resolution, there's a new sensor with Focus Pixels technology. This enables phase detection auto focus, which means you can focus almost twice as fast. You'll also enjoy advanced noise reduction with better skin tones via the 5-element lens.
Apple-designed its own image signal processor that lives inside the A8 chip. There's a dedicated hardware block for face detection, for example, as well as advanced blink and smile detection.
The iPhone 6 Plus will be the better bet for photo buffs, as it offers optical image stabilization. The lens moves and works hand in hand with the M8 chip to create steadier shots.The iPhone 6 now shoots 1080p video at up to 60 frames per second, and can record slo-mo video at 120 fps or 240 fps.
A fan of selfies? A new sensor lets in more light, and there's single-shot HDR capability. Plus, you get a burst mode for selfies.
Enhanced Wireless and Wi-Fi Calling
As you might expect, the iPhone 6 offers more enhanced wireless capability. This includes LTE 150 Mbps with carrier aggregation, 802.11 AC Wi-Fi and Voice over LTE. You can even make calls over Wi-Fi. You make standard calls in the same way, and they will hand off to LTE when you leave the house or office. T-Mobile will be the first carrier to support this feature in the U.S.
Longer Battery Life
One of the biggest complaints about the iPhone 5s is its short endurance. But the iPhone 6 promises close to all-day battery life. Thanks to the more efficient A8 processor, you can expect up to 10 hours of Web surfing over LTE on the iPhone 6. The iPhone 6 Plus bumps that up to 12 hours, because it packs a larger battery.
(Images from blog.laptopmag.com)