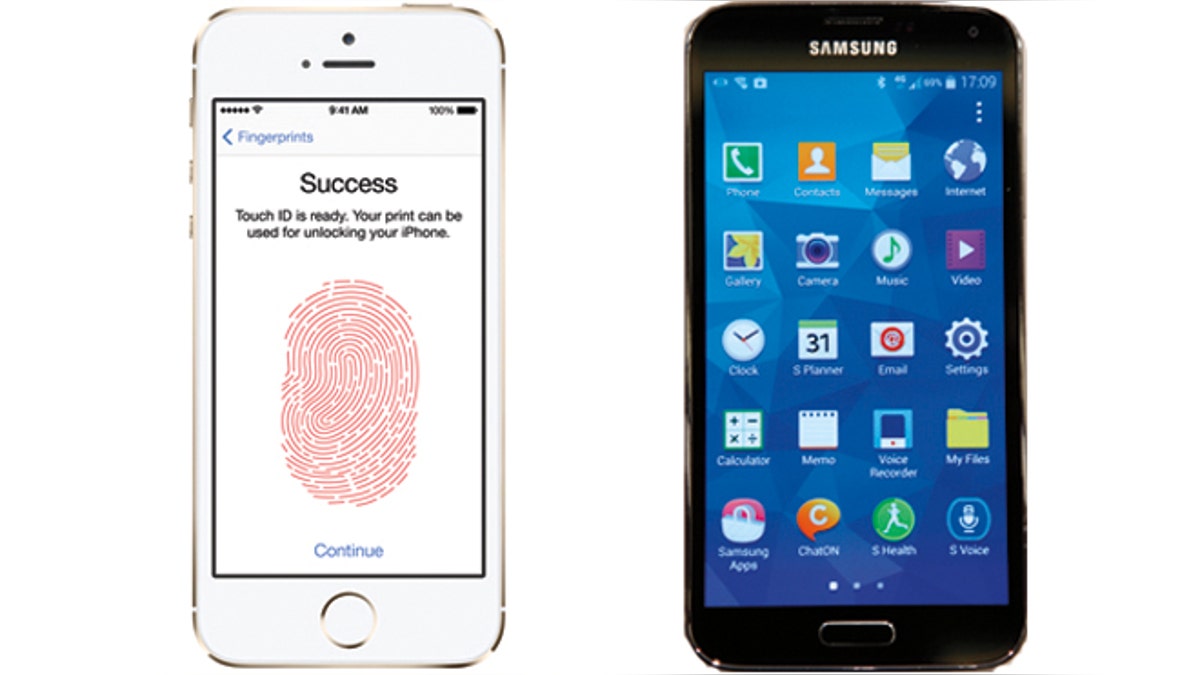 It used to be that Apple's almost-annual iPhone announcement was the only individual event for a phone unveiling. But Samsung has gradually made a bigger show of its handsets and turned every announcement of a new addition to its Galaxy S lineup into a spectacle. The Galaxy S5 was the headline-grabber at Monday's Mobile World Congress happenings, and, thanks to recent advertisements from Samsung poking fun at Apple, it's only right that new Samsung smartphone get the same initiation as its predecessors: An iPhone comparison.
Take up your swords, Samsung and Apple defenders; it's time for a spec showdown.
 

iPhone 5S

 

Galaxy S5

 

Size
123.8 x 58.6 x 7.6 (mm)
142.0 x 72.5 x 8.1 (mm)
Weight
112g
145g
Screen
4.0-inch LCD
5.1-inch Super AMOLED
Resolution
1136×640 pixels
1080×1920 pixels
OS
iOS 7
Android 4.4.2 with Samsung UI
Storage
16/32/64GB
16/32GB
SD Card Slot
No
Yes
Processor
64-bit A7 chip
2.5GHz Quad core
RAM
1GB
2GB
Connectivity
Wi-Fi, 4G LTE, HSPA+
Wi-Fi, 4G LTE, HSPA+, NFC
Camera
Front 1.2MP, Rear 8MP
Front 2.1MP, Rear 16MP
Bluetooth
Yes, version 4.0
Yes, version 4.0
Motion Processor
M7 chip
Heart Rate Monitor
Fingerprint sensor
Yes
Yes
Water Resistant
No
Yes, IP67 rated
Battery
1570mAh 
2800mAh
Charger
Lightning connector
USB 3.0
Marketplace
Apple App Store
Google Play Store
Ave. Price
$200+
$N/A
Availability
AT&T, Sprint, Verizon, T-Mob
April on AT&T, Sprint
Processor and Architecture
The Samsung Galaxy S5 is equipped with the latest and greatest processor for Android devices. The 2.5GHz quad-core processor is sure to provide plenty of speed and power, as comes as the standard expectation for all of Samsung's flagship phones. 2GB of RAM adds to its capabilities and looks better on paper than the iPhone 5S and its 1GB of RAM.
But Apple still is the only company that gets to lay claim to the 64-bit architecture on mobile devices. The iPhone 5S and its A7 chip managed to blow away the competition, including the Galaxy S4, in benchmarking tests. Whether the moderate upgrade in processor on the Galaxy S5 will change this is yet to be seen. Samsung has, however, combated some of Apple's power prowess with features that will improve battery life and maximize the processor's abilities.
Motion and Fitness
When Apple announced its iPhone 5S, it made a bit deal out of the M7 chip, the phone's motion coprocessor that measured data from the accelerometer. It was made out to be a big feature for the purposes of fitness, and we've seen plenty of apps take advantage of the motion coprocessor to improve tracking runs and workouts or even acting as a pedometer.
The Galaxy S5 is getting in on the fitness crave with some health-centric services of its own. Samsung has made the Galaxy S5 the "world's first" smartphone with a heart rate monitor that can be used to gather real-time data from exercising and activities. Additionally, the phone comes equipped with Samsung's fitness features called "S Health". Components of the platform include a nutrition tracker and exercise log.
Fingerprint Sensor
This is the moment every Apple fan has been waiting for. After having to take the ridicule from Android owners who mocked the fingerprint sensor included on the iPhone 5S, those iPhone owners can now claim they had the feature first while Samsung is just catching up. Rhetoric aside, the Galaxy S5 can now be counted among the few phones that have a fingerprint sensor, with the iPhone 5S and the HTC One Max being the others.
The Galaxy S5′s fingerprint scan isn't on the screen like the iPhone 5S, but instead built into the home key on the front of the phone. Samsung will allow users to use the finger scan to unlock the device or as verification for making online payments. We expect this will just further the wealth of security concerns that were generated when Apple announced its fingerprint sensor, so now Galaxy S owners can join in the fun.
Whenever Samsung and Apple devices are compared – and it happens often because of the animosity felt between the two companies – it's important to remember that they run on different operating systems. All the specs in the world may not change the mind of someone who loves the ease of use of iOS or can't leave the customization of Android. Finding the mobile ecosystem that fits you best will be the determining factor if you're comparing these devices.
If you're considering the Galaxy S5, it has been confirmed to be available starting in April 2014 on Sprint and AT&T networks.