Intel True VR shoots and scores with March Madness coverage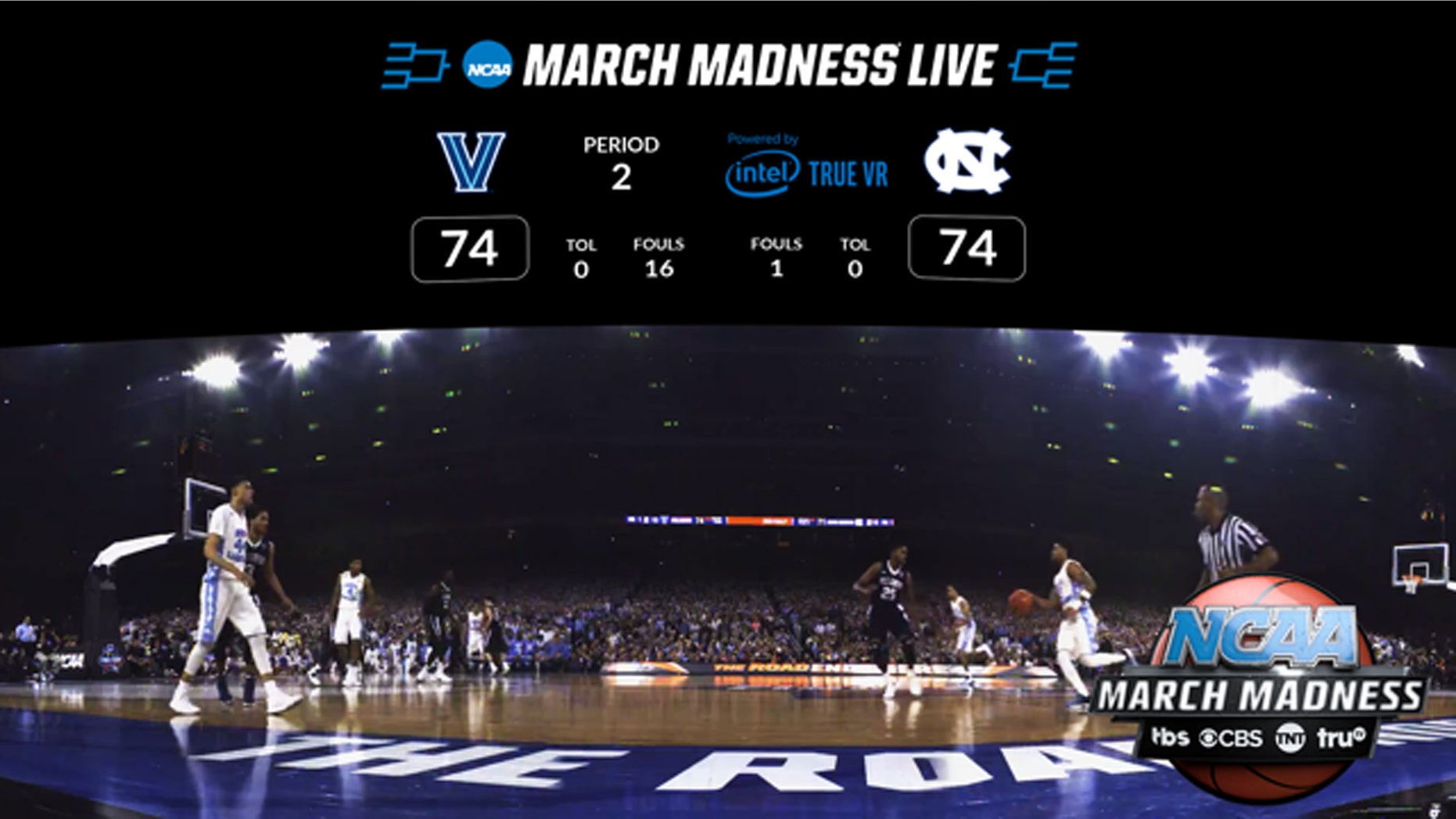 Intel Sports Group's virtual reality unit, recently rebranded as True VR, has literally stepped up its game for this year's March Madness.
The platform doubled the amount of exclusive live games that it offered from last year when Intel provided the inaugural VR coverage for the NCAA men's basketball tournament. True VR also boosted the viewing options for users and charged consumers to watch the NCAA men's basketball games for the first time.
Fox News decided to give the updated technology a shot to find out if it's worth the price of admission for what's believed to be the first-ever virtual tickets to a sporting event.
INTEL PATENTS A 3D CAMERA BABY MONITOR THAT COULD DETECH BREATHING PATTERNS
The Game Plan
Intel's March Madness app is a free download from the Oculus Store and I demoed it using the compatible Samsung Gear VR headset and Galaxy S7 phone.
The Real VR experiences cost $2.99 per game for the Gold package featuring more viewing options and dedicated VRCAST announcers. It's $1.99 for the Silver plan with a single courtside view and a simulcast of the CBS and Turner Sports broadcasters on TV.
You can read more about True VR's technology here.
Execution
The app's features start with picking your favorite team to decorate the "home" locker room and a player's jersey to hang in a locker.
In addition to live games, there's a wealth of content here, including highlights and a box score from every game in this year's tourney—just select a game from the onscreen bracket, a historical highlight reel from years' past, and full game replays or highlights in virtual reality of the games in San Jose that were broadcast in True VR.
The Golden Ticket is a sweet deal for an extra $1 per game since you'll get more options for produced or manual camera switches and custom commentary that's helpful for newbies.
There are still some issues endemic to watching sports in VR on any headset, especially if you're wearing headphones (you can hear the sound from the phone's speakers without them) as you lose the camaraderie and social experience of watching with friends, family, and fellow fans in your living room or elsewhere.
Of course soon you'll be able to watch virtually with a friend anywhere in the world.
INTEL SUPERCHARGES ENTHUSIAST LINE WITH NEW BROADWELL E-PROCESSORS
Intel Sports Group Managing Director David Aufhauser told Fox News: "We definitely believe social interactions with others will be a key component of VR and we are actively working on solutions."
The Score
Overtime: Today's fans are spoiled with multiple channels carrying so many games and DVR'ing to binge watch them, but when slipping on the VR headset it centers your focus.
Viewers should keep in mind you won't be tweeting, you shouldn't be moving around, and your full attention will be on the game.
I found the Gear surprisingly comfortable for periods lasting up to 30 minutes without a break. While you can pause live games, there's no fast-forward to "catch up" to real-time—yet. Intel says it's coming.
Double Bonus: The first thing some viewers will notice is the freedom of watching without glasses or contacts. Then there's the clarity and how the app truly renders a 180-degree view as if you are sitting courtside. True VR's unique vantage from the stanchion cam captures just how big the players are and delivers a great view of the banging underneath the basket.
Boxed Out: The most glaring omission for me is the absence of onscreen graphics and data. Intel's Aufhauser says, "We have built the capability and can demo it. You will find it coming soon in future executions."
The Intel exec adds they're working on adding a game clock; it's in frame for the halfcourt camera but can be obscured behind the backboard.
TV Timeout: A bonus for some fans: commercials were noticeable by their absence. The announcers took a break leaving you with the arena's ambient audio. Enjoy the silence: Aufhauser says, "In the future, we envision customers providing interactive or 2D and eventually 3D commercials to fill the breaks."
Blocked Shot: There were some sightline issues with the half-court camera, just as there would be if you were sitting in the arena's front row, but the VRCAST switched quickly enough to capture just about every touch in these areas.
Hot Hand: The phone's battery got very hot by halftime (not unusual when running VR apps) so monitor that.
Sub In: the battery level dropped from 98% to 35% by halftime so you keep the charger handy or plug in the device.
Sweet Shots: The 180-degree viewing experience scored with hoop heads and casual fans alike. Overall it was a fun and transformative experience for me and a few fellow viewers.
Cut Down the Nets: While today's viewers want data on demand and we're spoiled with DVR functionality, True VR's broadcast manages to capture the drama of buzzer beaters, deep threes, and above the rim play in a first-person, in-your-face manner that literally brings a fresh perspective to one of the most exciting events on the sports calendar. It's a game changer both with its production values and without a doubt by throwing open the virtual ticket window for VR experiences.