Hurricane Michael: Apps to use during the storm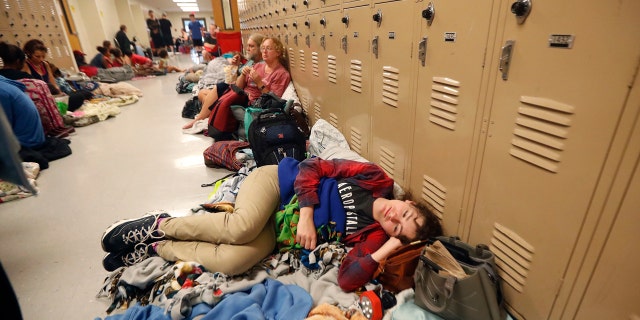 Hurricane Michael made landfall Wednesday, potentially wreaking havoc for thousands.
If you're in Michael's path, take a look at several digital apps and websites you may want to refer to.
Hurricane by the American Red Cross
The American Red Cross has its own app to keep track of storms.
"Monitor conditions in your area or throughout the storm track, prepare your family and home, find help and let others know you are safe — a must have for anyone who lives in an area where a hurricane may strike or has loved ones who do," its Google Play page says.
This app helps people locate American Red Cross shelters and offers information on how to put together emergency supplies, the page says, among other features.
"Let family and friends know you are okay with the customizable "I'm Safe" alert for Facebook, Twitter, email and text," the listing states.
'Safe and Well'
The non-profit organization also has a safety check website where people can sign themselves up.
"The American Red Cross Safe and Well Website is a way for people affected by a disaster to enter information regarding their welfare so family and friends can check their status," the agency explains.
You can enter a person's name along with either a phone number or an address to look for updates.
FEMA 
The Federal Emergency Management Agency (FEMA) has an app that provides information including National Weather Center updates, safety information and where to find emergency shelters.
GasBuddy
This website, which also has an app, lets drivers search for and compare gas prices. Users can search to see if gas stations in their area have fuel and power, as well.
Gas Buddy is also currently offering updates online on gas outages in North Carolina, South Carolina and Virginia.
Waze
On the road? Users can check for accidents and traffic through Waze, a crowd-sourced app.
"Join other drivers in your area who share real-time traffic and road info, saving everyone time and gas money on their daily commute," Waze says online.
The app also offers information about gas prices.
"Navigate to the cheapest station on your route, all powered by community-shared gas prices," it says. "By working together to report prices at the pump, Waze drivers can always save some gas money."
Zello
This app acts like a walkie-talkie, its website announces. People can use Zello to set up or subscribe to already-existing "channels" for communication.
"While Zello has been helpful in Harvey relief efforts, it is not a hurricane rescue tool and is only as useful as the people who use it, and as reliable as the data network available," Zello warned in a post last year.
The post also explained certain requirements for the app to work properly.
"If there is no WiFi and no cellular data service, communication apps (including Zello) WON'T WORK," it said at the time. "However, this may not be an issue because, historically, mobile data networks have often remained at least partially operational, even after a severe disaster."
HURRICANE WARNING VS. WATCH: HOW ARE THEY DIFFERENT?
Firechat
"FireChat works even without an Internet connection or cell phone coverage," its Google Play page says, claiming that for it to work, there has to be "a few people around you using FireChat."
The listing also breaks down how the app operates.
"Bluetooth and WiFi need to be "on" to send and receive messages when not connected to a network (yes please turn WiFi on, even if you don't have access to the Internet)," it explains. "And if you are connected to a cellular network or WiFi access point, then FireChat will work too."