HP EliteBook x360 is a stunning, practical laptop for work: review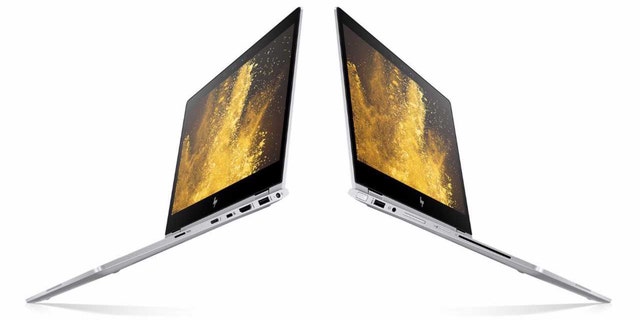 Hewlett-Packard has built an amazing laptop that any business can bank on.
HP has been making laptops for businesses for a long time and it shows. The 2017 EliteBook x360 nails all the essentials including design, construction, keyboard, battery life, performance, portability, and security.
I've been using the 13.3-inch EliteBook x360 for the last month or so. Here's my brief review.
Design strikes a key balance
The all-metal design strikes the best balance of thinness (under 0.6 inches thick) weight (2.8 pounds), size, and sturdiness in any 13-inch laptop I've used to date.
In short, it's lightweight but built for MIL-STD-810G certification, which means it can survive hard knocks, drops and extreme temperatures.
TIME TO GET A SMARTWATCH? HERE ARE 5 OF THE BEST FOR THE SUMMER
Keyboard provides a great experience
In my experience, HP has always built great keyboards and this is one of the best typing experiences yet with deep, comfortable clicks despite the laptop's thin design.
The one downside for me has been figuring out common, older key combinations for functions like "insert" or "print screen" on the modern 2017 HP keyboard, but that's a minor gripe.
Battery life
The EliteBook x360 has a ton of battery life, even besting MacBooks I've owned with good battery life. Your mileage will vary but I can use the laptop pretty much all day -- up to 10 hours of use -- with the display dimmed a bit and with an average workload (Web, light multimedia, Microsoft Office).
HP rates the battery at "up to 16 hours and 30 minutes."
Performance
Part of the delicate balancing act is finding a happy medium between performance and battery life.
The Intel 7th Generation Core i7 processor in my model is plenty fast, making it one of the snappiest laptops I've ever used.
NEW SURFACE PRO KEEPS BEST OF PRO 4, IMPROVES WHERE IT COUNTS: HANDS-ON REVIEW
Security
The EliteBook x360 is packed with security features to make it as bullet-proof as possible for business. Features that stood out to me is the ability to sign in using either facial recognition (a very fast process) or a fingerprint scanner.
Display
The touch display has a 360-degree hinge, meaning you can configure it as a tablet or prop it up for a presentation in "tent mode."
The display is bright and offers good-enough resolution (1,920-by-1,080) for a business laptop. On a premium laptop, however, I would like to see a higher-resolution display as standard. A very-high-resolution display is also available as an option.
Ports
A good selection of connectors, including one USB Type-C (the tiny USB connector that comes on most new laptops), two traditional (old-style) USB ports, one HDMI connector for use with an external display, and a micro SIM slot.
Price: Good doesn't come cheap. That said, at a starting price on HP's website of $1,319, it's close to the price of the newest low-end 13-inch MacBook Pro.