How to make calls, work offline with Gmail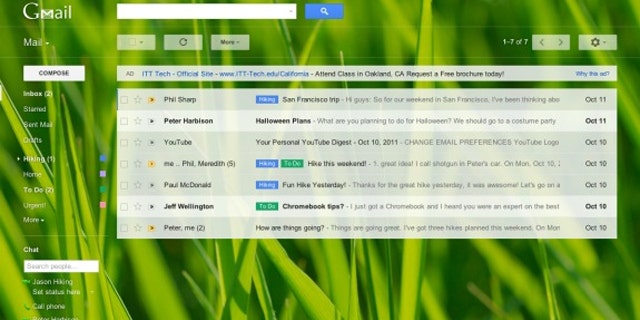 NEWYou can now listen to Fox News articles!
Gmail easily ranks among the world's most popular and powerful email systems. It's crammed full of convenient features to enhance your email experience, with new ones being added all the time. The following guide identifies some of the most convenient yet underused features, to help you get the most from your Gmail account.
Link with Microsoft Outlook
Gmail offers an ocean of gigabytes for free, and all of it is stored on Google's servers. It is very handy, especially for email hoarders, and finding something via search in Gmail is fast and accurate, says Joe Puckett - director of recruiting and training for PC Helps, which provides desktop support services.
Thankfully, your Gmail and Outlook accounts can be linked together to create one central hub for your email. "Outlook's familiarity with certain features and functions is a great benefit for end-users as well, as the ability to view multiple email accounts all in one place and in one format," Puckett says.
To set up seamless access to Gmail in Outlook 2010, you must first verify that IMAP is enabled by opening the settings panel in your Gmail, clicking on the Forwarding and POP/IMAP tab and clicking Enable IMAP.
Next, open Outlook, click the File tab, followed by Account Settings, and then select Add and Remove Accounts or Change Existing Connection Settings. It should be noted that these names will be slightly different, depending on which version you are using.
In the next window, click the New button, enter your name, email address and password, and press Next. If done correctly, Outlook should configure your email server settings so you can begin using your account.
Create filters
A common complaint among email users is the number of unwanted or excessive emails appearing regularly in the main inbox. The more you sign up for websites and offers, the more unwanted emails you will begin to receive. By creating Gmail filters, you can automatically sort the newsletters, special offers and other correspondence that may be clogging up your main inbox.
To create a new filter, click on your Gmail settings and select the Filters tab. Here, you can view all of your active filters and create new ones by clicking the Create a New Filter button. You will be given five fields that will help identify the specific types of email you wish to filter. By analyzing who the message is from or to, its subject and the words in the mail, Gmail will automatically send future mails to certain mailboxes, mark them as read or even send them to the trash.
Work offline
While most of Gmail's features can only be accessed via an Internet connection, there is an alternative available for times when the online version proves inaccessible. To set up offline Gmail, access your account settings and select the Offline tab. Once you select the Enable Offline Mail for this Computer button, you will be prompted to download and install the necessary software.
Gmail should now save copies of all your downloaded emails straight to your hard drive, so they can be accessed even without an Internet connection.
Free phone calls
One of Gmail's most convenient, yet overlooked features is the ability to make free phone calls to anywhere in the United States, right from your Gmail homepage. Within the chat bar in the pane on the left-hand side of the screen, you should see a Cell Phone button. If this is your first time using the feature, you'll be prompted to install new software before you can proceed.
One you've installed Video and Voice Chat, it's simply a matter of entering the area code and phone number you wish to call. You can also video chat to other Gmail users by clicking the video icon in top left corner of the chat box.