How to borrow eBooks from the library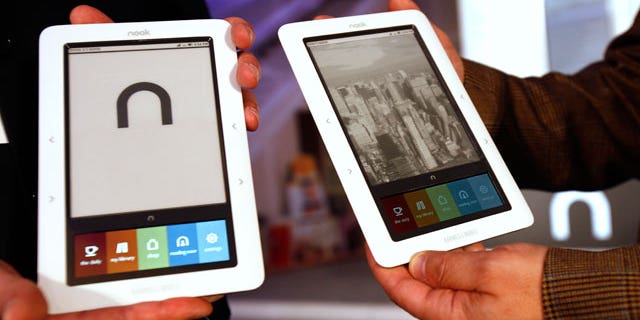 How would you like some free digital books for your summer reading list? Most people don't realize that they can borrow e-books from their local library on Kindle, Nook, or other digital readers. But indeed you can -- and I'm going to give you some tips on how.
Amazon Kindle: If you own a Kindle, you are well equipped for summertime reading since the device is small, light, and easy to see in direct sunlight. I like to throw mine in the pocket of my swim shorts on my way to the pool. Good thing I don't wear Speedos!
To get library books on your Kindle, make sure you have your Amazon.com login handy. Then visit your local library's website and browse the selection of e-books. When you find one you want, you will need to make sure it is now already lent out. Libraries don't have limitless digital copies to lend out. Much like real books, if someone else has it checked out, you've got to wait your turn.
If the book you want is available, be sure it is available in "Kindle format." Then click "check out." The software will then take you to the public library loan page on Amazon.com.
Four places for free e-books
Libraries aren't the only spot for free books. Here are four free, legal resources to help you find reading material.
Project Gutenberg
Created to digitize books in the public domain and making them freely available.
Kindle Store, NOOK Books, and iBookstore
Most titles offered by these giants cost money, but certain texts can be downloaded free.
Google Books
Google's project is similar to Project Gutenberg, but on an even larger scale.
Wikibooks
From the masterminds behind Wikipedia, Wikibooks provides free open-source info.

Read more
The next part can be a tad tricky. From the "deliver to" menu, pick "your Kindle". Choose "get library book," and it'll be sent right to your Kindle. The next time you open your Kindle and sync it online, you'll notice your lent book right there! Much like a physical book, you only get a few weeks to read your e-books. Once the loan period is up the book will vanish from your device.
Sony Reader: If you have a Sony Reader, the process is even easier. Sony's latest model, the Sony Reader Wi-Fi, connects wirelessly to your local public library. There is a Library icon on the home screen that connects to your local library wirelessly. No need to download extra software or search the Web on your computer. Sony has been out in front of library lending for a long time so they long ago simplified the process.
Barnes and Noble's Nook: Getting a library book on these devices is a bit more cumbersome. Follow these steps to make set up a breeze.
First download Adobe Digital Editions from Adobe's website. Once you've downloaded it click "launch" to install the software on your computer. The software will help you manage the books you borrow from the library.
Once you've completed the installation process you'll need to create an Adobe ID. You'll have to create an Adobe account as well, and once that's done your account is good to go. Just enter your new Adobe ID and password and activate the software.
A new screen will pop up for Adobe Digital Editions and it'll ask you to connect your Nook via USB cable. Next you'll have to go through another screen that says "device set up assistant" and it'll ask you to "authorize device." Once you've authorized your device just click "finished".
Then you want to head back over to your library's website and pick the book that you want. When you're checking out make sure you pick the EPUB format. That's the format that Adobe's software uses. Unlike the Kindle which transfers your book wirelessly, you'll need to plug your device into your computer to transfer that book from the library to your device. This process is a bit trickier than the Kindle set up, but once you do it you'll get the hang of it very quickly.
Don't forget that both the Barnes & Noble Nook and Amazon Kindle have apps for the iPad. That means you can borrow books from your local library and read them on your favorite tablet.
There's one big problem with borrowing e-books from your local library. Getting new releases can be a bit of a pain because of long waiting lists. Libraries are trying to find a solution for this but for now you're better off reading a book that you've been meaning to read for a few years.
If all this seems a bit complicated to you, don't worry. It was a little complicated to me at first too. I fumbled my way through the process but if you don't want to do that, many libraries offer classes on how to use e-readers. The libraries will walk you through the setup process and you'll be off on the beach towel soon enough.
Clayton Morris is a Fox and Friends host. Follow Clayton's adventures online on Twitter @ClaytonMorris and by reading his daily updates at his blog.