How much does Facebook make off you? The amount may surprise you
There is an old adage in technology that if you are not paying for it, you are the product. For Facebook and its massive user base, this rings true, with some eye-opening results, depending upon where you live.
Facebook's most valuable users are in the U.S. and Canada, generating $26.76 in average revenue per user (ARPU) in the fourth-quarter of 2017, $26.26 of that from advertising. For all of 2017, the average user in the U.S. and Canada generated $84.41 in ARPU. $81.92 of that came from advertising, making the region Facebook's most valuable on a revenue basis.
As of the fourth quarter, Facebook said it had 184 million monthly active users in the U.S. and Canada, a decline of 1 million monthly active users from the previous quarter. In total, Facebook has over 2 billion monthly active users.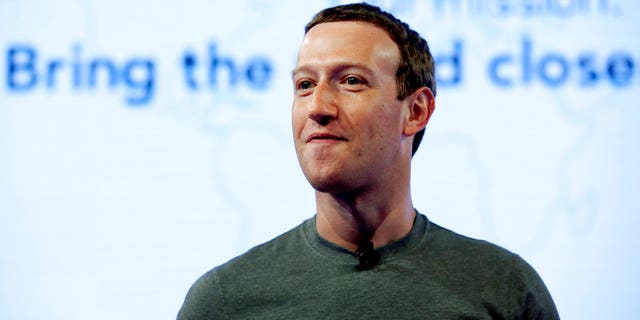 FACEBOOK USERS SHOULD EXPECT TO PAY FOR PRIVACY, SANDBERG SAYS
Other regions of the world are not as lucrative for Facebook, due in large part to the developing nature of the online advertising world. But they are still quite valuable for the Mark Zuckerberg-led company. In some cases, the growth rate is outpacing that seen in the U.S. and Canada.
In 2017, the average revenue per European user for Facebook was just $27.41, less than half the $84.41 from U.S. and Canadian users. In the Asia-Pacific region, where Facebook is legally banned from China, it generated just $8.92 in average revenue per user in 2017.
Of the $40.65 billion in revenue Facebook generated in 2017, $39.94 billion came from advertising, with the remaining $711 million coming from payments.
FACEBOOK'S SANDBERG SAYS COMPANY DID NOT DO ENOUGH TO PROTECT PEOPLE'S DATA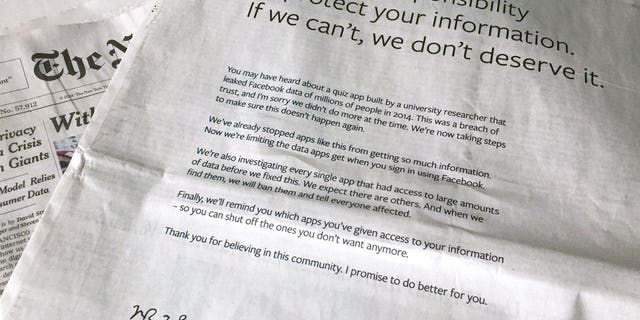 Protecting privacy
There have been cries that Facebook is exploiting its users in the wake of the Cambridge Analytica scandal, where perhaps as many as 87 million Facebook accounts are alleged to have been improperly accessed. Some users, including Apple co-founder Steve Wozniak, have left the social network as a result.
Both Facebook CEO Mark Zuckerberg and COO Sheryl Sandberg have apologized, but Sandberg said its users should expect to pay for privacy.
The comments came in the wake of revelations that the personal information of 87 million users had been inappropriately used by the data firm Cambridge Analytica in the 2016 election campaign, the New York Post reported.
Appearing on Fox News' The Daily Briefing" with Dana Perino, Sandberg said that while the company expects to find more data breaches, Facebook is taking action to prevent such problems in the future.
"We know at Facebook we did not do enough to protect people's data," Sandberg told Perino, also referencing Facebook CEO Mark Zuckerberg. "Mark is sorry about that. I'm sorry about that."
Sandberg also denied any notion that the company is a "surveillance operation" that exploits users data for advertisers.
"We are not sweeping up data. People are inputting data. People are sharing data with Facebook," she said.
Sandberg's admission comes as the social media giant struggles to address mounting security concerns in the wake of revelations that 87 million Facebook users may have had their data harvested by Cambridge Analytica, the controversial data firm that was employed for a time by President Trump's campaign during the 2016 presidential election.
"We did not pay enough attention," Sandberg added. "Now we're getting on that."
Sandberg also noted that the tech company is taking steps to become more transparent in what stories it shows on users' news feeds and that the company is aggressively going after fake news.
"We're definitely increasing transparency," she said, adding that the company is also looking to share news from only trusted news sources - both conservative and liberal - and it will start requiring political advertisres to verify their identities before they can post on Facebook.
"The goal is to make sure everyone can share safely," Sandberg added.
Over the past few weeks, the Cambridge Analytica scandal has mushroomed into investigations across continents, including a probe by the U.S. Federal Trade Commission. Zuckerberg himself will be questioned by Congress on April 10 and 11.
Fox News' Andrew O'Reilly and Bradford Betz contribued to this report. Follow Chris Ciaccia on Twitter @Chris_Ciaccia