How an accessory maker guessed right on the iPhone 5 and wrong on the iPad Mini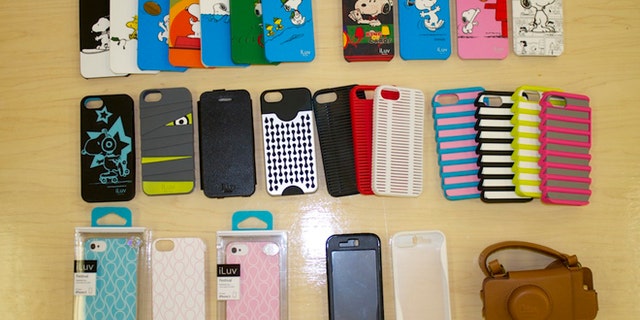 PORT WASHINGTON, NY – iLuv, a popular maker of accessories for iPhones, iPads and other mobile devices, hunkers in a low-slung, nondescript building in a business park in Port Washington, Long Island — about an hour north of Manhattan.
Inside, though, is a glittering showroom of sorts (called the "Dream Gallery") displaying every product the company has made. It also included 25 case models for the new iPhone 5 and one for the iPad Mini — manufactured and ready to go well before Apple's latest smartphone had been unveiled — and before the rumored tablet failed to materialize.
TechNewsDaily was invited in the day before today's Apple announcements for an exclusive first look at iLuv's lineup and a discussion of how a company can put out an entire series of products that might not fit the devices they are made for. (Previously we had interviewed other accessory makers, including Macally, Moshi, Skech, Spigen, Trust and Zagg.)
[SEE ALSO: Your iPhone 5 Accessories Are Ready — Already]
"We don't always hit the nail…sometimes we miss it," said Michael Hong, the company's marketing director. One painful miss he recalled was for the New iPad that debuted on March 7. Apple decided to adjust the placement of magnets that hold on detachable covers — something iLuv had not foreseen. So it had to junk an entire shipment of covers that wouldn't attach (the company declined to say how much money it lost in the process).
And today, the rumored Pad Mini turned out to be a fresh disappointment, though Hong said that the company had not invested much in the case.
[pullquote]
But usually, they get it right, as they have been making Apple accessories in advance of product announcements for the past four years. How do they know what the next iPhone or iPad will look like? Brian Yang, the VP of sales and marketing, said only "We gather information here and there."
He clarified that it went well beyond reading rumor Web sites or other tech blogs. While iLuv is based in the US, its products are manufactured in China, and it maintains an office in the booming city of Shenzhen, near many high-tech manufacturing centers, including Foxconn, Apple's biggest contractor.
And despite Apple's legendary secrecy, its operations are pretty porous, said Yang, because it contracts with other companies, such as Foxconn, to manufacture the products — rather than having its own facilities, as Samsung does. "Because Apple doesn't own their factories, information can get leaked out," said Yang. Samsung holds onto information much better, he said.
In the case of Samsung, iLuv has an arrangement to get information in advance. Yang said that they don't have anything like that with Apple — as the other accessory companies that we spoke to confirmed.
While the guessing game generally works, companies like iLuv are growing weary of it. The iPhone 5, as expected, has a much-smaller connector — rendering generations of speaker docks obsolete (without Apple's $29 adapter, at least). "That changed the whole industry," said Yang. Instead of chasing a moving target with new dock connectors or adapters, companies such as iLuv and several others are transitioning to Bluetooth wireless speaker systems that work with virtually any smartphone — after all, Android phones like Samsung's Galaxy S line are also very popular.
[SEE ALSO: 5 Retro Audio Gadgets That Rock]
While the iPhone 5 was a given, and details leaked out long before today's debut, the iPad Mini was a wildcard. Rumors had long swirled that there would be one some day, but it was only in the past weeks and days that companies started thinking that it would come out today.
So iLuv was more cautious. Instead of 25 products, as for the iPhone, they just built a few, including an adaptation of the Belgique — a soft, padded case that they already made for the 9.7-inch iPad models and the Kindle Fire. It's no accident that they chose a soft case. If the predictions of the iPad Mini dimensions were a bit off, they reckoned it would still fit, and it could work for other 7-inch tablets, Hong told us today.
As it turns out, iLuv and most other companies we'd spoken to got the iPhone 5 right. And for that reason, you won't have to wait a month or so after the new smartphone and tablet go on sale on September 21. You can order your accessories now. And if an iPad Mini ever comes out, products will already be waiting for it.
iPhone 5 Accessories Are Out
5 Ways the iPhone Wasn't Original — and 2 Ways it Was
Getting iPhone 5 Won't Require Sleeping Outside Apple Stores