High-tech gear to weather the storm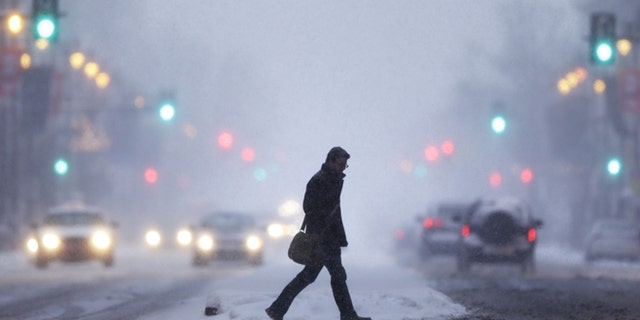 Whether you call it the Polar Vortex, snowpocalypse or just plain old "winter," many people across the country are getting more than their fair share of frigid and snowy weather.
While the kids may love the snow days, the rest of us should remember that it's better to be prepared than scared in the cold and dark.
Aside from stocking up on the usual nonperishables, there are some high-tech basics that can make it easier to get through the cold snaps -- and even save lives in an emergency.
Electronic Swiss Army Knife
Eton has been making radios since the '80s and hand-crank models for about a dozen years. The company's $79 FRX3 American Red Cross edition is an all-in-one emergency gadget with an LED light, AM/FM radio, and phone charger packed into a device weighing less than a pound.
The FRX3 also picks up NOAA weather alerts and has a flashing red LED. It can use AAA batteries, be recharged via a USB cable (there's an internal Ni-MH battery) or via a built in solar panel. It can even be hand cranked to keep it going. Cranking the radio for a minute or two will give you from 5 to 10 minutes of radio time, depending on the volume.
The built-in lights are no substitute for a good flashlight, however. On the other hand, the radio can be essential during a blackout. There are also some nice little touches, such as a glow-in-the-dark band on the top handle around the small solar panel. It's a good idea; during the last big blackout, I couldn't find the radio I had stashed in the kitchen because...it was too dark to see.
Keep Your Phone Running
Who among us always has a fully charged phone at the ready? I thought so. Consequently, a back-up battery is an excellent idea.
A nifty option is the $40 Ventev powerdash r900 charger. It does double duty as 12-volt car charger and as a back-up battery you can take with you. About the size of a disposable lighter, the r900's lithium polymer battery can deliver up to 3 hours of additional talk time. As a charger it can be used to power even a tablet in the car thanks to the 2.1A rapid charger. It's also handy for people who use apps like Waze and other navigation programs that can drain a phone's power faster than some other 12-volt adapters can provide.
When even batteries fail, there are still ingenious ways -- such as a tricked out cooking pot -- to get a phone working so that help can be sent to your location (or so you can whine on Facebook). The $150 PowerPot V (available at Hammacher Schlemmer) uses a thermoelectric generator to convert heat into electrical current to charge a connected device.
It comprises a pot with a special bottom plate that taps the difference between the hot flame below and the cooler water (or food) inside the pot to generate an electrical current. The current is in turn transmitted through an attached cable to a phone or camera. It takes patience -- several hours of heating to fully charge a phone -- and works better over a gas stove than an outdoor campfire, but it's still better than no power at all.
Stay Warm
Hypothermia is a very real threat in winter storms. When you can't count on power to provide heat, (say, when one is stuck in a car in the snow overnight), a quick, heat retaining shelter can keep you from freezing to death. The $23 SOL 2-Person Emergency Bivvy is an excellent solution.
It looks like one of those bags you can boil food in. It's designed to keep the heat in, and the weather out. The polyethylene material is coated with aluminum, making it waterproof and windproof. The material reflects 90 percent of your body heat back to you and it's stretchable. The bivvy weighs less than 5 ounces, so it's ideal for anyone heading outdoors or as part of an emergency car kit. Incidentally, SOL stands for Survive Outdoors Longer, and the company makes a line of compact emergency medical kits to consider as well.
Clean Water
We tend to take it for granted in the U.S., but the availability of clean water can also make the difference between life and death. When the power's out, treatment plants sometimes can shut down. Or if you're stuck outdoors, finding untainted water can be difficult.
The $70 Vapur MicroFilter solves part of the problem by purifying water in a flexible 1-liter water bag. The Vapur bag can be refilled up to 500 times with its straw filter that removes 99.999 percent of waterborne bacteria, such as giardia and E. coli. The straw's membrane filter won't remove heavy metals or kill viruses in the water, but it will prevent intestinal disruption and get you through an emergency without having to lug or store jugs of water.