Hands-On With the Motorola Droid X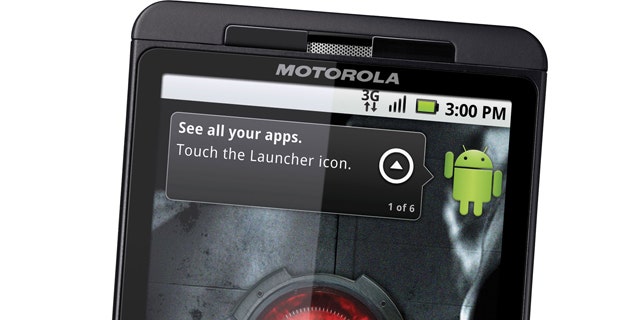 If it's a Wednesday -- or any other day of the week -- then it's time to introduce another Google phone. Go ahead and welcome the new Motorola Droid X into the quickly growing family of phones.
Today Google, Motorola, and Verizon Wireless unveiled the newest version of the popular Android-powered Droid smartphone, called the Droid X. The newest Droid builds on the massive momentum of the original Droid -- not to mention the robust marketing campaign.
VIDEO: Motorola Droid X Launch Event and Hands-On
The Droid X is built by Motorola, but it runs version 2.1 of Google's operating system. It offers a 4.3-inch display, a 720p video camera and HDMI output. I immediately noticed that this Droid is much faster than its first-generation cousin. The 8-megapixel camera has a mechanical shutter, which helps cut down on those blurred photos you get on many smartphones.
But the first thing you'll notice is that this phone is large. Very large. In fact, I spoke with a few women today who described it as unfriendly for female hands. "Wow, this is definitely made for a man," I was told. And there's no question that the Droid X has an industrial feel to it.
Google CEO Eric Schmidt made an appearance at the phone launch today, where he talked about the importance of the smartphone category. While there, Schmidt took a small swipe at another popular phone set to launch tomorrow.
"This is not a toy or app engine," he said. "It's a powerful kind of operating system. What's happening now is that people are thinking mobile first instead of desktop first."
iPhone users might argue with the characterization of their beloved smart phones as toys.
Schmidt is clearly pitting Google against Apple, and with good reason: Google's Android system gained ground on the iPhone over the last year. Google's head of engineering, Andy Rubin, said at the Droid X phone launch that about 160,000 Android phones were being sold every day.
Despite Schmidt's assurances that the Droid X isn't just an app engine, there are some sweet apps. My favorite is the NFL app, which lets users track and watch their favorite teams live while using the Red Zone feature. You'll receive notifications whenever your team is in the red zone, or close to scoring, and start watching your team live as they drive down the field. The NFL app also lets users watch full Thursday night games and Sunday night games.
The Droid X also allows consumers to rent and buy movies from Blockbuster to watch on the phone. Movies cost $9.99 to purchase and $3.99 to rent using the Wi-Fi network. And unlike that other new smart phone, the Droid X will support Adobe Flash.
All in all, the new Droid X feels more refined than the original Droid. Yet despite its boosted processing power, Motorola says the new battery will last just as long as that in last year's Droid.
Verizon Wireless, the biggest U.S. mobile provider, said the Droid X phone will go on sale July 15 for $199.99, after a $100 rebate to customers signing a two-year contract. Looks like you'll have to wait to get your manly hands on one.