Half of Internet TVs aren't connected, study shows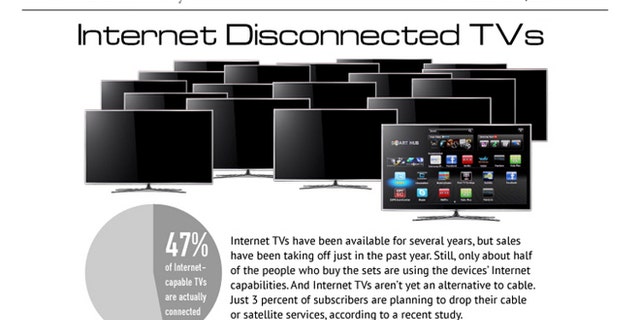 3D TVs were the buzz last year, and the year before. But lately, it's all about the Internet connection — or so it seems. Every major TV-maker — LG, Panasonic, Samsung and others — offers sets with Wi-Fi and apps to access video services like Netflix, music sites like Pandora and social networks like Twitter.
But that doesn't mean people are doing it.
"People are buying connected TVs, but they are not all using them," said Norm Bogen, vice president for digital entertainment at research firm NPD In-Stat. In fact, according to a survey that In-Stat shared exclusively with TechNewsDaily, only half of all people who own Internet-capable TVs have actually gotten them online.
Instead, they continue to use the set-top box from their cable or satellite company to access live TV or video on demand, said Bogen.
And among people who are connecting their TVs, many features go unused. "I think that people like some aspects of smart TVs," said Paul Gagnon, the director of North America TV research In-Stat's sister company, DisplaySearch. People use TV for vegging out, he said — mainly by streaming video. They don't often use features that require them to be active. "Social networking and games — those are pretty lightly used," he said. "People type on laptops and mobile devices."
[pullquote]
Why the lack of enthusiasm? Some people may not even know or care that they have a connected set. Online capability is simply becoming a standard feature, especially on larger TVs.
Gary Merson, editor of TV News site HD Guru, believes that people like the idea of connected TVs, but that retailers do a lousy job of explaining the benefits of the sets — or even how to use them.
And retailers don't, as a standard practice, offer to connect TVs to the Internet when they deliver them. With Best Buy, for example, hookup requires opting into the company's Seamless Home Theater Setup service, which costs an additional $150. For Target, setup packages start at $99.
What about the desire to "cord cut" by getting rid of cable or satellite TV to save money and customize what people want to watch? It seems to appeal more in theory than in practice. In a study from this month, Nielsen found that just 5 percent of households watch only Internet and free antenna-based TV. And Nielsen isn't sure how many of those people never had cable in the first place — making them cord-no-getters instead of cord-cutters. A January study by Centris Marketing Science indicates that, while 18 percent of TV subscribers are changing their plans or switching providers, just 3 percent say they even plan to cancel pay-TV service in the next three months.
The interface on connected TVs could also explain the lack of enthusiasm. "They're very, very complex and unintuitive user interfaces," said Gagnon.
Copyright 2012 TechNewsDaily, a TechMediaNetwork company. All rights reserved. This material may not be published, broadcast, rewritten or redistributed.