Hagel Wants More NATO Spending to Counter Russia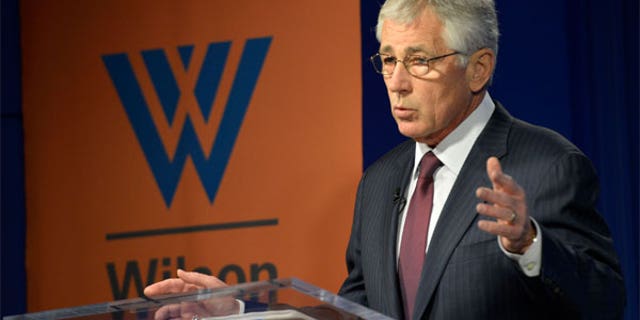 NEWYou can now listen to Fox News articles!
Defense Secretary Chuck Hagel called on NATO allies Friday to boost defense spending to prepare for the long-term threat of an expansionist Russia.
Hagel delivered what was billed as a major policy address to the Wilson Center as Ukrainian security forces clashed with pro-Russian militants in eastern Ukraine and the United Nations Security Council met in emergency session at Russia's request.
At the White House, President Obama and visiting German Chancellor Angela Merkel agreed that tougher economic sanctions should be imposed if Russia attempts to disrupt elections in Ukraine later this month and fails to pull back the estimated 40,000 Russian troops on Ukraine's borders.
"We will not have a choice but to move forward with additional, more-severe sanctions," Obama said.
Merkel added that "further sanctions will be unavoidable."
In his speech to the Wilson Center, Hagel said the U.S. "must see renewed financial commitments from all NATO members" to spend at least two percent of gross domestic product on defense. He noted that several previous defense secretaries had made similar requests that were mostly ignored by the Europeans.
Hagel stopped short of stating that a new Cold War with Russia was imminent, but he framed the crisis in Ukraine and the threat to the alliance in Cold War terms.
"In recent years, one of the biggest obstacles to alliance investment has been a sense that the end of the Cold War ushered in an 'end of history' and an end to insecurity -- at least in Europe -- from aggression by nation-states," Hagel said.
"Russia's actions in Ukraine shatter that myth and usher in bracing new realities," Hagel said. "Over the long term, we should expect Russia to test our alliance's purpose, stamina, and commitment."
The crisis in Ukraine threatened to spread to NATO members bordering Russia and posed a challenge to the credibility of the alliance, Hagel warned.
"Russia's recent action in Ukraine has reminded NATO of its founding purpose,' Hagel said. "It has presented a clarifying moment for the trans-Atlantic alliance."
The allies' concerns intensified as Ukrainian forces reportedly began an offensive to oust armed pro-Russian groups that have taken over towns and government buildings in at least 10 eastern Ukraine cities.
Kiev authorities reported that two Ukrainian helicopters had been shot down, killing two crew members.
In Moscow, Dmitry Peskov, the spokesman for Russian President Vladimir Putin, said the Ukrainian offensive made a mockery of the tentative peace deal reached in Geneva last month by Russia, Ukraine, the U.S. and the European Union.
Ukraine's actions "effectively destroyed the last hope for the implementation of the Geneva agreements," Peskov said.
Russia's aggression in the region had reached a point where the allies had to consider scrapping the post-Cold War policy aimed at making Moscow a partner to the West, said NATO Deputy Secretary General Alexander Vershbow.
"Clearly, the Russians have declared NATO an adversary, so we have to begin to view Russia no longer as a partner but as more of an adversary than a partner," Vershbow, a former Pentagon official, told reporters Thursday.
At the Pentagon Friday, Rear Adm. John Kirby, the chief spokesman, declined to call Russia an "enemy."
"There is no reason for us to consider Russia an enemy," Kirby said, but unless the policy changes, Russia "could become some kind of enemy."
-- Richard Sisk can be reached at richard.sisk@monster.com