Hackers hijack Twitter accounts with Swastikas, 'Nazi Holland' messages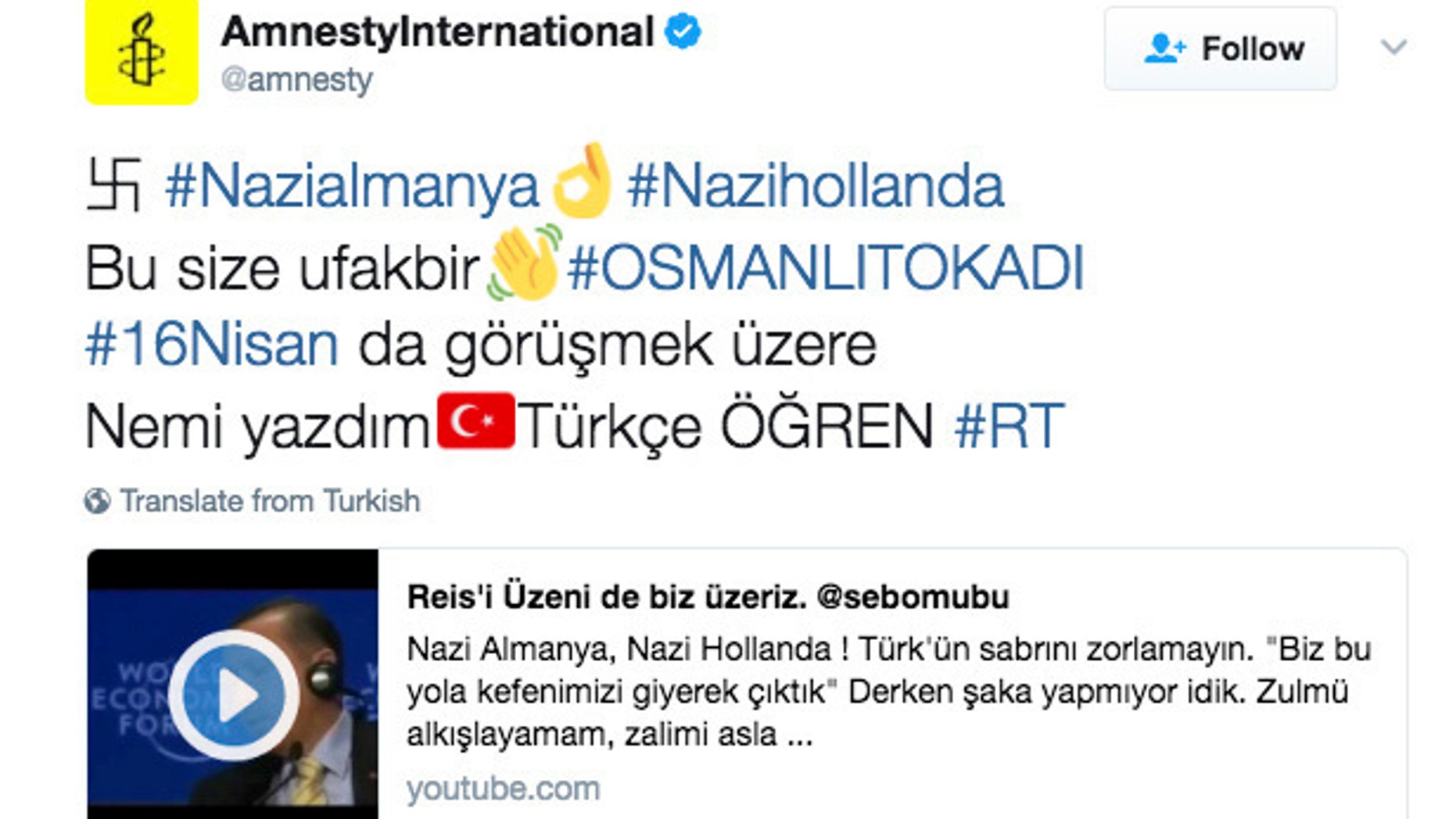 A slew of high-profile Twitter accounts, including Amnesty International, BBC News North America and the European Parliament were hijacked by hackers early Wednesday.
The tweets in Turkish, which included Swastikas, appear to be a reference to the growing diplomatic tensions between Turkey, Holland and Germany.
The hashtags "Nazi Holland" and "Nazi Germany" appeared in Turkish on multiple Twitter accounts. "This gives you a little #OttomanSlap" the hackers wrote, adding "see you on April 16," an apparent reference to Turkey's forthcoming referendum on increasing the powers of President Recep Tayyip Erdogan.
SCIENTISTS CREATE 'LIP PASSWORD' THAT IDs USERS BY THEIR LIPS' MOVEMENTS
Hackers also posted a link to a video of Erdogan. Thousands of Twitter accounts may have been compromised in the attack, according to The Sun.
"Hi everyone - we temporarily lost control of this account, but normal service has resumed," BBC News North America tweeted early Wednesday.
"Earlier this morning our Twitter account was hacked. We've now deleted the hacked tweet and investigating what happened," tweeted Amnesty International.
"We briefly lost control of this account earlier, but everything is now back to normal," tweeted the European Parliament.
Other accounts hijacked included Duke University, Unicef USA and tennis star Boris Becker.
Hackers also reportedly targeted the accounts of Forbes, Sprint CEO Marcelo Claure, the U.K.'s Department of Health, according to The Sun. The accounts all appear to be back under control.
THE SCENT OF CYBERSECURITY: KASPERSKY LAB LAUNCHES PERFUME
"We are aware of an issue affecting a number of account holders," said Twitter, in a statement emailed to Fox News. "Our teams worked at pace and took direct action. We quickly located the source which was limited to a third party app. We removed its permissions immediately. No additional accounts are impacted."
Twitter also urged concerned users to check out its account security tips.
While specific details on the hack have not yet been revealed, third-party app Twitter Counter, confirmed early Wednesday that its service was hacked.
"We're aware that our service was hacked and have started an investigation into the matter.We've already taken measures to contain such abuse," it tweeted.
Twitter Counter, which provides users with analytics, advertising and competitor data, added in a subsequent tweet that it does not store users' Twitter passwords or credit card details.
There is speculation that a pro-Erdogan activist group called the Cyber Warrior is behind the widespread hack. On Tuesday the group warned of a large-scale attack.
FOR THE LATEST TECH FEATURES FOLLOW FOX NEWS TECH ON FACEBOOK
The attack is a clear example of the damage hackers can do via social media, according to Evan Blair, chief business officer of digital risk monitoring company ZeroFOX. "This breach proves that securing your social media footprint is not as simple as changing a couple [of] setting[s] on your accounts," he told Fox News, via email. "The attack propagated from a 3rd party application, an attack your social media manager can hardly be blamed for not thwarting. Protecting your pages demands robust security controls that the networks themselves don't offer."
The Twitter hijackings are the latest in a campaign of online vandalism that has followed from days of escalating tensions between Turkey and its European partners over Turkish politicians' hopes to campaign there ahead of their country's constitutional referendum next month. The dispute has devolved into angry nationalist chest-thumping, a display mirrored online by the defacement of a large number of random Dutch websites.
On Monday alone several hundred websites were hit at a single Dutch internet hosting provider, Versio, according to an employee who posted a message to the company's help forum.
The Associated Press contributed to this report.
Follow James Rogers on Twitter @jamesjrogers