Hackers attack Vatican website 2nd time in days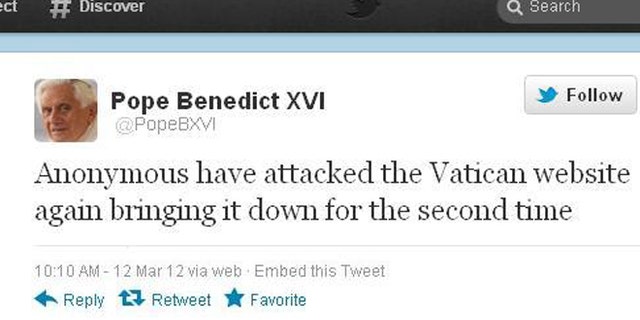 VATICAN CITY – The personal data of journalists at Vatican radio was leaked online and the Vatican's website hacked for the second time in several days -- both attacks believed to be the work of the amorphous Internet activist group Anonymous.
The group last week claimed to have taken down the Vatican website to protest everything from Catholic doctrine to the sexual abuse of children.
The site, www.vatican.va, has been inaccessible for parts of Monday afternoon.
A statement posted online at Pastebin explains that the group blames signals from Vatican Radio radio for causing high cancer rates -- a reference to a 2010 report by the National Cancer Institute into deaths near Vatican Radio transmitters. The group published the personal information to pressure the station into action.
"We regret having to announce that your systems are less secure than what you would like to believe, because, while the hype was directed toward the darkening of vatican.va, we took the liberty to implement a small incursion into your systems," the statement reads.
Vatican officials declined to discuss the breach while the attack was still underway, but a Twitter account for the Pope acknowledged the incident Monday morning, Tweeting simply that "Anonymous have attacked the Vatican website again bringing it down for the second time."
The Associated Press contributed to this report.