Growing number of universities want to fly drones over campus, report shows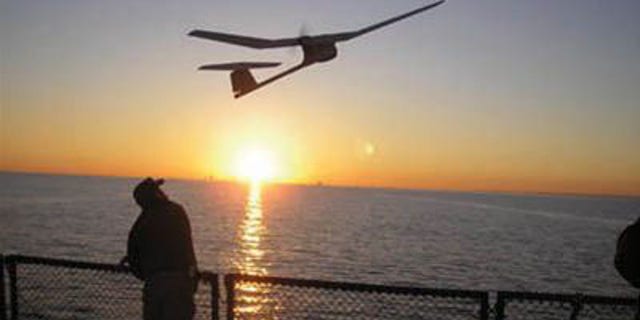 NEWYou can now listen to Fox News articles!
As college students are finding themselves, are schools using drones to find them?
Thirty-four colleges and universities applied for permission to fly unmanned surveillance drones over campuses across the country in 2012, according to records obtained by a privacy watchdog group. The schools cite plans for a wide array of scientific research, yet activists and privacy experts are nevertheless concerned about the high-flying spies.
"I find it troubling that this is the first most students have heard of secret plans to fly military-grade spy machines high above their dorms, classrooms and quads," Josiah Ryan, editor-in-chief of conservative education blog Campus Reform, told FoxNews.com.
"The constitutional right to privacy does not end on campus. The presidents of each of these 34 institutions owe their students, donors and taxpayers an explanation."
'We were concerned about the domestic use of drones.'
The use of unmanned drones has soared in the U.S. military, which has come to rely on the robotic planes for targeted attacks and covert spying worldwide. Domestically, drone use has skyrocketed as well: More than 80 applications for drone-flying permits were filed with the Federal Aviation Administration in 2012, including more than thirty universities, according to records obtained by watchdog group the Electronic Frontier Foundation.
"We were concerned about the domestic use of drones. Especially about who would be using them," Jennifer Lynch, staff attorney for the EFF, told FoxNews.com. "It's been good to get the information because people can go informed with questions to their local officials."
The lists of higher-learning institutions that have applied for the drone permits include:
Cornell University, which applied for a permit to use a university-built unmanned aerial vehicle (UAV) to collect atmosphere and weather data as well as to track airborne spores in a study drafted to combat potato blight. The study was done in 2012 and the permit has since expired, and school officials say they have no other active permits.
the University of Michigan for use on Lake Michigan's Grand Traverse Bay for "persistent surveillance on open water by gathering data as a drifting surface buoy that repositions via flight."
the University of Florida, which applied for a permit to fly a NOVA "in support of ongoing aerospace, geomatics, ecological and aquatic research."
the University of Wisconsin-Madison for the purpose of attaching a camera to a remotely controlled plane to take "low-altitude pictures" for a river restoration project.
One campus public safety organization even applied to use drones to assist in monitoring the school grounds.
The Georgia Institute of Technology's police department applied for a permit to use two small helicopter drones during special events, as well as day-to-day operations, "to respond to areas before a police officer would quickly place 'eyes on the target or crisis area'."
The school's PD first applied in 2009, but was denied. Some experts say that using the drones in daily operations would likely have been ineffective.
"The majority of crimes on a college campus happen behind closed doors," Steven J. Healy, managing partner of Margolis Healy, a Vermont-based campus security consulting firm, told FoxNews.com. "Drones wouldn't do much good in helping to spot anything as it's occurring."
Officials at Georgia Tech may have agreed, having dropped their bid for a permit after being denied.
"The [drone] initiative was just in the concept phase. When the FAA denied the application, our police department decided to allocate its resources elsewhere," Georgia Tech spokesman Matt Negel said in a written statement to FoxNews.com.
Detractors say there is little to stop drones moving from the research department to the public safety branches of universities that have applied. That scenario is highly unlikely, Healy's business partner said.
"It would be surprising if a research drone obtained by a university was put on loan to the campus police department for surveillance," said Gary Margolis, managing partner of Margolis Healy who served as the chief of police at the University of Vermont and State Agricultural College for over a decade. "It is possible, but it would have to go through an internal bureau and it would be an unreasonable expense."
In recent years, the federal government has ramped up efforts to issue private licenses for drone use with nearly 1,500 issued since 2007, according to statistics released this month. While only 327 of those permits are still active, the findings have done little to quell the public's paranoia that big brother may be watching.
"What's often missed in this debate is that there are many, many applications [for drone use]," Steve Giten, a spokesman for drone manufacturer AeroVironment, told FoxNews.com. "Many of them are important and valuable and non-controversial."
"We are certain that people will gain understanding as time goes on," he said.