Gov't probed Microsoft customers twice as often as Google, report reveals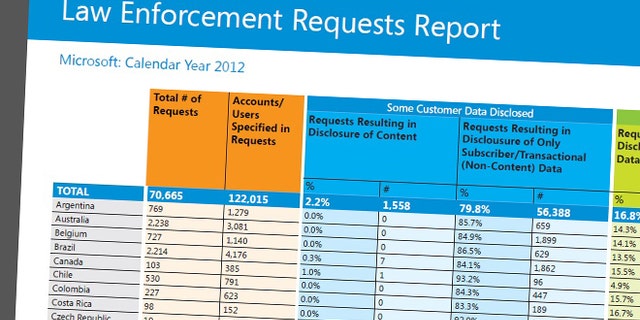 The government sought information on Hotmail, Outlook, Skype and Xbox Live users more than twice as often as it sought to snoop on Google's users, according to the Windows giant's first ever disclosure of law enforcement requests.
Microsoft received 75,378 requests for customer information last year almost entirely from the U.S. government, the company revealed Thursday. In contrast, the government sought data on Google customers via subpoena, search warrant and other means about 31,000 times in 2012.
[sidebar]
Microsoft produced detailed information on 1,558 customers, said Brad Smith, general counsel and executive vice president of at Microsoft.
"In recent months, there has been broadening public interest in how often law enforcement agencies request customer data from technology companies and how our industry responds to these requests," he wrote on the company's site.
"We seek to build further on the industry's commitment to transparency by releasing our own data today."
Such revelations are a key insight for U.S. citizens, as concerns over data privacy have grown in recent years. Few companies disclose any such data; Microsoft joining their ranks is a clear win, explained Eva Galperin, a global policy analyst at the Electronic Frontier Foundation in San Francisco.
[pullquote]
"Only a few companies report this, but they are only a very small percent of the online universe," Galperin told The New York Times. "So any one company that joins the disclosure effort is good news. The faster this becomes a standard for all Web businesses, the better."
"Government requests for online data are like the dark matter of the Internet," she added.
The snooping affected only a tiny percentage of Microsoft's customers, Smith pointed out: He estimated it to have affected less than two one-hundredths of one percent. In many cases, the company is legally obliged to respond, he noted.
Microsoft is committed to respecting human rights, free expression, and individual privacy," Smith wrote. "Like every company, we are obligated to comply with legally binding requests from law enforcement, and we respect and appreciate the role that law enforcement personnel play in so many countries to protect the public's safety."
Microsoft said it would update the report every six months.