Google Launches 'Person Finder' for Chile Quake Victims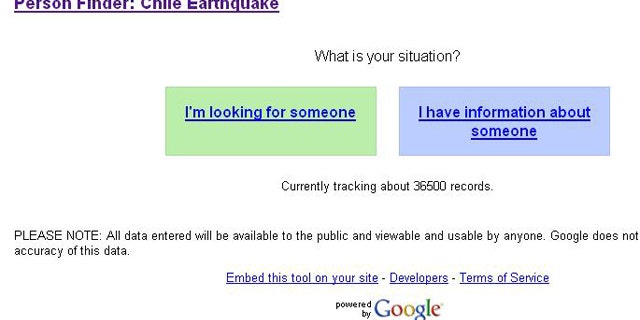 Google on Saturday activated an online "person finder" tool to help relatives and friends to find loved ones following the huge earthquake in Chile.
The "Person Finder: Chile Earthquake" from the California-based Internet giant is located at Chilepersonfinder.appspot.com and offers users the choice of using it in English and Spanish.
It asks users "What is your situation?" and gives them the choice between "I'm looking for someone" and "I have information about someone."
Users can then search records by name or input information about someone.
As of 1:15 p.m. ET Saturday, Google's "person finder" was tracking around 1,400 records.
Google also deployed a "person finder" following last month's earthquake in Haiti. It currently contains some 58,700 records.
Saturday's 8.8-magnitude earthquake in Chile killed at least 147 people and sent tsunami waves roaring across the Pacific Ocean.