'Global SuperTanker' deployed to fight California fires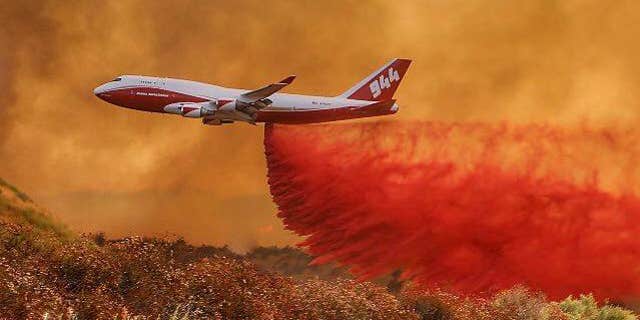 Firefighters doing battle against Northern California's massive and deadly Camp Fire have received help from Colorado – in the form of the world's largest airplane designed for firefighting.
The Global SuperTanker, a modified Boeing 747-400 that can carry 18,000 gallons of fire retardant, was deployed Friday and Saturday, the Denver Post reported.
By comparison, standard tankers used to fight fires hold only about 1,100 gallons, the report said.
So the SuperTanker does the work of 15 to 16 normal-sized tankers, CEO Dan Reese of the plane's Colorado Springs-based owning company told the newspaper.
The jumbo aircraft dropped four loads of fire retardant in California on Friday and more on Saturday, the newspaper reported.
"We plan on being there until we're released by Cal Fire," Reese told the newspaper, referring to the California Department of Forestry and Fire Protection.
Colorado also sent three fire engines to California, spokeswoman Caley Fisher of the Colorado Division of Fire Prevention and Control told the Gazette of Colorado Springs.
The Global SuperTanker was not used against previous California fires during the summer because the company lacked a contract to work on federal land, the Post reported.
Three major fires are currently scorching the Golden State: The Camp Fire, in the area of Paradise, Butte County, and the Woolsey and Hill fires, in Southern California just northwest of Los Angeles.
As of Saturday evening, the fires had killed at least 25 people, burned tens of thousands of acres and displaced tens of thousands of residents.