Get the strike fighter experience in Latin America at the LAAD 2013 defense show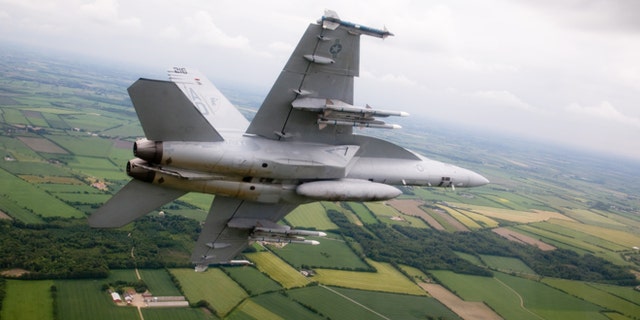 Want to know what it feels like to fly a U.S. strike fighter in aerial combat? Then Rio de Janeiro is the place for you -- well, it was, anyway.
With the U.S. military suffering under sequestration, American defense giants and their fellows from around the world converged on Rio de Janeiro to win business from the ever-growing Latin American military budgets at the biannual LAAD 2013 defense show, which ran April 9 - 12.
Want to fly a U.S. strike fighter?
Boeing played it very smart and made the Super Hornet experience available to potential buyers and mere attendees of the show. A finalist in Brazil's F-X2 fighter competition, the Super Hornet is in service with the U.S. Navy and the Royal Australian Air Force.
While Boeing also brought unmanned systems, it was the company's Super Hornet simulator that demonstrated both single-seat E and two-seat F model capabilities that made a big splash.
Potential buyers could jump in and hone their takeoff and landing skills not just on a runway, but also an aircraft carrier.
The simulator included a front and rear cockpit where you could even have a go at air-to-ground targeting and aerial combat.
Robots
Robots are always crowd-pleasers, and Northrop Grumman featured robots big and small at the show.
On the larger side, Northrop also brought the mid-sized vehicle CaMeL, short for Carry-all Mechanized Equipment Landrover, essentially an unmanned ground vehicle.
Capable of carrying 1,000 pound of equipment, CaMeL is used for a range of tasks from lightening a dismounted soldier's load to mine clearing and casualty evacuations.
This clever CaMeL can also be used as a retransmission platform, a robotic weapon system or for ammo, food and water resupply.
It runs on both a battery and diesel and can travel at speeds of 5 mph over varied terrain. Power efficient, this robot can provide about 20 hours of continuous operations on 3.5 gallons of fuel.
On the other hand, the tiny, 23-inch high Titus -- one of the company's new unmanned ground vehicles -- can be controlled with a something similar to a gaming console. Particularly handy for those hard to reach places, it can navigate narrow 16-inch pathways and move at a speed of 7.5 mph.
Location, location, location
Impossible to miss smack dab in the entry to the most bustling hall, BAE Systems secured prime real estate at LAAD 2013. It was one of the more convivial stands, which is hardly surprising given BAE's ongoing wins with Brazilian armed forces.
Successes like the armored personnel carrier M113, acquired by the Brazilian Army, were prominently featured. Designed for rough terrain, high-speeds on roads and even amphibious operations, the M113 can carry thirteen including the driver.
A popular combat vehicle, there are more than 80,000 internationally with more than 44 countries.
Wolves, Hurricanes and more
A wide range of Israeli companies performed very well at LAAD, but it was Hatehof's massive vehicles that were spotlight stealers.
Hatehof recently won domestic contracts with the Israeli police and Ministry of the Interior and featured a suite including the Wolf, Navigator and Hurricane.
Wolf was developed for the Israel Defense Forces for use in urban and challenging terrain missions. The 9 ton, armored four-by-four can carry up to nine soldiers.
The Navigator, a massive MRAP, weighs about 18.5 tons and carries up to 13 soldiers. It has a high level of protection of up to 14 kg for underbelly mines.
Navigator is designed to defend soldiers from IEDs and RPGs. It has STANAG Level 3 protection and can be upgraded to Level 4.
On the lighter side at 9 tons, Hurricane is a more lightly armoured, lighter in weight vehicle with more maneuverability.
It can carry up to seven soldiers and also has a STANAG protection Level 3 with the potential to increase to Level 4.
Hatehof's Riot Control Vehicles have a pick and mix of configurations and add-ons including armored cabins, jamming systems and day and night cameras.
With these vehicles designed to defeat riots, a customer can also choose from an array of non-lethals such as water, dye, skunk, gas and foam.
Sky Nets and Battlefield Tactical Radar
Thales is dominating in Latin America sky nets - with 140 operational radars, 250 Navaids and 26 TopSky-ATC deployed in air traffic control and surveillance – they already cover more than half of the airspace.
France-based Thales has been building relationships with Latin America for more than four decades.
Focusing on combining radar and non-radar tech to optimize surveillance coverage, state of the art tech to improve safety was showcased including TopSky-Safety Nets for airspace and TopSky-Tower for the ground.
The joint-venture between Raytheon and Thales, ThalesRaytheonSystems, did a Latin reveal on their air defense tech the Ground Master 400.
The mobile long-range air defense 3-D radar with adaptable towers detects the full range of very high to very low altitudes. It is designed to track tough targets like drones, cruise missiles and aircraft flying at only several hundred feet above ground.
With more than 600 systems in service internationally, the company says it is the world leader in battlefield tactical radars.
New to the party
Turkey and UAE are two recent additions to the largest defense exhibition in Latin America. This year UAE presence grew bringing fifteen companies at this year's national pavilion including Tawazun, Sofia Trading, Emirates Advanced Investments Group and Advanced Integrated System.
Turkey brought ten defense companies across the spectrum from shipbuilding through to ammunition.
And then there was Pakistan
Pakistan made its debut this year at LAAD.
The largest state-owned defense conglomerate, Global Industrial & Defence Solutions, brought a range of unmanned aerial vehicles or "drones." Remote controlled or self-controlled, these drones are designed for surveillance monitoring and other purposes.
They also featured their ANZA-MK II surface to air missiles, Baktar Shikan anti-tank guided missiles.
Ballet dancer turned defense specialist Allison Barrie has traveled around the world covering the military, terrorism, weapons advancements and life on the front line. You can reach her at wargames@foxnews.com or follow her on Twitter @Allison_Barrie.