Gadget gifts for the time-challenged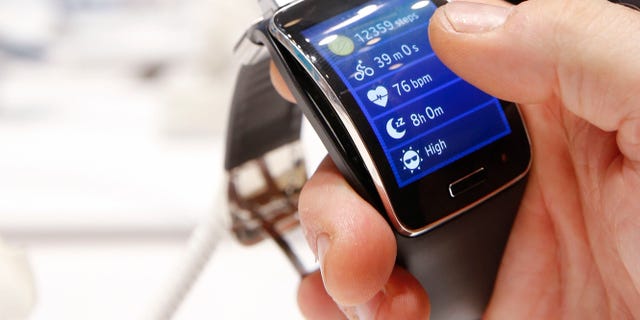 People call it procrastination, I call it time management. If you're like me and are still shopping for gifts, at least you're in the home stretch. Some of my last-minute suggestions may be difficult to come by in time for Christmas (overnight shipping can only perform so many miracles) but perhaps you'll decide to get one of these gadgets for yourself — after the holiday.
Samsung Gear S, $384
The category of smart watches is confusing and chaotic. Some models are little more than muscle-inspiring fitness trackers, while others are intellectually challenged smart watches that only work when paired with a phone. The Samsung Gear S eclipses both categories. Not only is it a fitness tracker, but it's also a 3G wrist phone — no handset required. The comfortably curved Gear S has a 2-inch AMOLED touch screen, works with the latest Samsung phones for downloading apps, and has a heart rate monitor, messenger, calendar notifications, and even built-in GPS. The battery is also better than that of its many competitors, lasting for more than 2 days at a time during my data-intensive testing.
The Gear S heart rate monitor isn't always accurate during exercise, and the watch is not inexpensive, although Sprint offers it on a payment plan for just $16 a month (over a two-year period) and is waiving the $10 monthly service charge for voice and data if you have a family plan. There are also competitive plans available from T-Mobile.
Tiffen Steadicam Smoothee, $149
From action chase scenes to contemplative tracking shots, Steadicams are used extensively in movies and TV shows. You can add the same professional-looking polish to your own iPhone movies thanks to the Steadicam Smoothee, a smaller gimbaled device that has adapters for iPhones and GoPro cameras. Clip in your phone, and with a little practice you can eliminate shaky shots and follow the action without adding bounces. I found it easy to steady a shot with a touch of my thumb on the handle. It's the perfect gift for the inveterate videographer in the family.
Nextbook, $179
Yes, Virginia, there are still Windows computers, but they're a lot smaller and cheaper. To wit, the Nextbook is less than $200 but runs the full Windows 8.1 operating system. It has a 10.1-inch touch screen and includes a full year of Microsoft's Office 365. It's got a responsive keyboard and just 32 GB of storage, but up to 64 GB can be added via a microSD slot. The big advantage is that the screen detaches from the keyboard turning it into a tablet, which is a bonus for families who have trouble sharing devices and can't afford a $499 iPad Air. On the other hand, the Netbook is based on an underwhelming Intel Atom processor, so don't expect to use this system for extensive video or photo editing.
Riva Turbo X, $350
Portable Bluetooth speakers are the Furbies of this holiday season, with prices ranging from $20 to several hundred dollars. But if you choose the wrong one with poor sound quality, it could turn into a pet rock. The Riva Turbo X is one of the best-sounding models I've auditioned this year. It's not small (it weighs 3.5 pounds), but it's a solid rock and roller, able to fill a large room with music thanks to three built-in speakers and 45 watts of power. Its battery can last for up to 26 hours if you keep the volume down to a dull roar.