Future generations can speak to Holocaust survivors – via hologram technology
BEACHWOOD, Ohio – Stanley Bernath is a 92-year-old Holocaust survivor, among a few still alive. New technology will allow people to hear his heart-wrenching experience firsthand for decades, maybe even centuries – via an interactive hologram.
As survivors of the Holocaust continue dying off, researchers have looked for ways to tell their stories to future generations – but not just in books or movies. Researcher in the U.S. have come up with an interactive experience that makes users feel like they are having a conversation with a survivor – in real time.
"We are really in the last generation that's going to benefit from hearing directly from Holocaust survivors," Kia Hays, a program manager at the University of Southern California's Shoah Foundation, told Fox News.
The foundation's researchers worked to refine hologram technology over the past 10 years to create an experience that had never been done before with Holocaust survivors. The technology used is the most advanced one so far.
"The holocaust should never ever be forgotten, and that's why I loved to do it," Stanley said.
He is the 15th Holocaust survivor to be made into a hologram.
Stanley's story is undergoing a beta test as an interactive biography on a screen at the Maltz Museum near Cleveland, Ohio before researchers finalize him into a hologram. The public can ask Stanley's hologram questions and get an answer from him as if he were talking to them face-to-face.
"Through this device, we're able to say we are taking a page out of history and making it come alive," Maltz Museum Founder Milton Maltz told Fox News.
Getting to the point of beta testing Stanley's interactive interview has been months in the making, Hays said.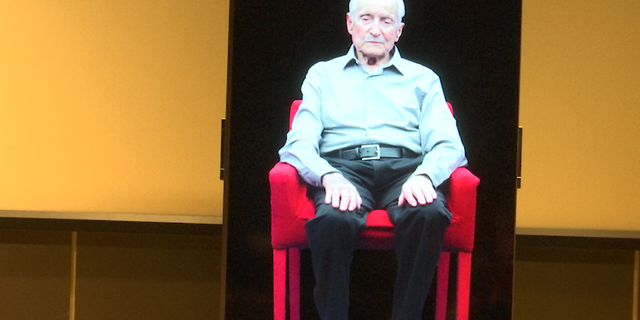 Months leading up to the beta test, Shoah Foundation researchers in Los Angeles worked to come up with the possible questions someone in the public may want to ask a survivor, Hays said. In the two months leading up to recording the interview with a survivor like Stanley, Hays said the foundation works on building a relationship with the individual.
"During that time, that allows us to know what the limitations this person has," Hays said.
Stanley's interview consisted of two, five-hour days and close to a thousand questions, she explained.
"We had, when we were doing the hologram, about 1,300 lights around me, blinding me," Stanley said. "It wasn't easy."
Stanley's interview was recorded in a light stage with 116 cameras capturing a 360 volumetric view of his interview, Hays added. The next step was to single out each answer.
"We identify each of his responses as its own individual unique clip and then integrate it into the software system," Hays told Fox News.
Hays noted the survivors aren't coached to answer questions in any particular way.
"We don't edit, manipulate, change his response in anyway." Hays said. "That is Stanley. That's who he is, and that is how he feels."
Stanley said being a part of the process has been an honor for him.
"I looked at it as a gift that they gave me that I could do this," Stanley said. "One of the best things I've ever done in my life."
A representative for the Maltz Museum said the public's questions to Stanley's interactive interview will be documented as well as his reaction to those questions. The collected data will then be used to refine Stanley's software in order to create a smoother interaction.