FOX Sports teams with NextVR to broadcast live sports in virtual reality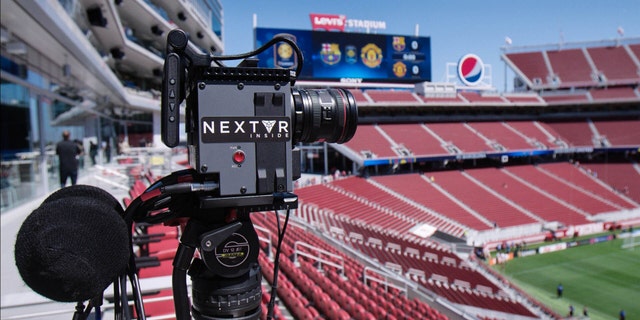 It's about to get easier for sports fans to score some pretty sweet seats and unique experience all-access passes to big events without leaving the couch.
FoxNews.com has learned that FOX Sports and virtual reality production company NextVR have teamed up in a deal to produce and broadcast live sports in VR.
"It's important for us to be at the forefront of how sports fans are consuming content well into the future. I think virtual reality represents that," said David Nathanson, head of business operations for FOX Sports. "We believe what NextVR is doing in live sports is best in class."
Specific terms of the five-year deal were not available but it begins with this Sunday's Daytona 500. The green flag drops at 1 p.m. ET to start the NASCAR race, which FOX will broadcast on TV in HD and for the first time, in VR.
Related: Iconic View-Master toy gets cool virtual reality upgrade
The virtual reality broadcast will be free of charge on the NextVR portal.
"This is a watershed moment, or tipping point in the world of virtual reality," said Brad Allen, executive chairman at NextVR. "FOX Sports is a major player and this partnership with them is a milestone in VR and providing these live experiences is unlike anything before. We're very excited."
FOX Sports (owned by 21st Century FOX, the parent company of FOX News) has worked with NextVR to produce a number of live sporting events over the past year, some of which were available to the public and others just tests for FOX officials. These competitions include the U.S. Open Golf Championship last June, a NASCAR race in Fontana, Calif. last March, and the Premier Boxing Champions.
Related: Google's new VR headset to challenge Samsung, report says
This deal is not exclusive. NextVR also publicly broadcast in virtual reality the NBA season opener featuring the champion Golden State Warriors, a game that was televised by Turner Sports. There is a common denominator as Warriors co-owner Peter Guber is an investor in NextVR and chairs its advisory board.
Allen says the platform allows for great insights into viewing habits: "The average viewer spent 38 minutes at one time watching the Warriors game. That's without a break. The sensor knows when you're watching and not watching."
The Laguna Beach, Calif.-based company also broadcast in VR a presidential debate on CNN. Allen says that was viewed in 121 countries.
Advertisers are interested in this type of data. "For sponsors there will be naturally an opportunity to create immersive opportunities whether it's pre-roll video, banners, VR commercial units, or integrating brands into the experiences we create. It's uncharted territory," said FOX Sports' Nathanson.
Related: Google Cardboard redefines class trips with VR 'Expeditions'
And it's obviously early days for the industry: estimates from Juniper Research and Deloitte Global forecast some 2.5 million to 3 million VR headsets will be sold this year, and NextVR's Allen expects the total universe of devices will be around 10 million worldwide by year's end. But the NextVR exec says quality, live sports content from FOX gives consumers a reason to buy and use headsets since there will be "a consistent number of VR experiences with major sports events instead of one-offs."
Plus he tips that sales may get a boost as some sleek VR glasses more similar to sunshades than sleeping shades are going to debut at next week's Mobile World Congress event in Barcelona.

FOX Sports is not releasing a schedule of VR events but they will soon be listed in the sports section on the NextVR portal. FOX has rights to tentpole sporting events including the NFL, Major League Baseball, and the U.S. Open Golf Championship.
Related: Oculus touts Rift-ready PC bundles
For now Nathanson says so far there have been no issues with broadcast rights in VR. "It's on a case-by-case basis. In every instance we've approached a rights holder around virtual reality, they've embraced it as an opportunity to reach fans in a different way, to create an immersive way to reach fans and bring them closer to the sport."
And for now, that's what FOX Sports and NextVR plan to do, supplement not supplant broadcast viewing. While VR viewers can still hear the FOX broadcast crew, the headset will give fans unfettered access and views from home that really will be better than most at the track.
"We're calling this the Daytona 500 experience, we're not trying to cover the race," explained NextVR's Allen, adding, "It's going to be as if you're there, but you'll be in pit row, the start line, the finish line, up in the stands, on the infield, in the garage—lots of places you normally can't go."