Fox News delivers updates via Facebook's new notifications app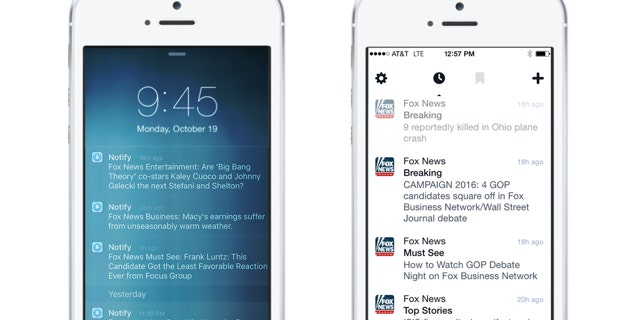 Facebook has launched its new app Notify, which is designed to deliver timely notifications to the social network's users.
Fox News offers six stations covering breaking news, politics, entertainment, channel alerts, business and top stories.
"Everyone has different interests, so whether you're into sports, celebrities, news, movies, music or shopping, Notify makes it easy to find notifications you're into with a broad selection of great "stations" across a variety of categories," explained Facebook product manager Julian Gutman, in a statement Wednesday.
Related: Fox News is having its 'moment' on Twitter
Facebook users select the stations from which they want to receive updates and notifications are then published through the stations whenever there is an update. The app will also provide station suggestions based on a user's Facebook profile.
"You'll receive notifications, delivered right to your lock screen, and a quick glance will keep you connected to the things that you care about throughout the day," explained Gutman, in the statement. "If you want to see more, just swipe or tap through any Notify notification to open the link in the app's browser where you can read the full article, watch the video, or view the site."
Gutman notes that it's also easy to share favorite notifications with friends via text, email, Facebook or other social networks. "If a notification catches your eye when you're busy or distracted, just swipe to add it to your Saved Notifications list," he added. "You can discover all the notifications you've received from Notify in the last 24 hours via a convenient in-app feed so you can easily stay up to date."
Notify is available in the U.S. for iPhone and can be downloaded from the App Store.