Forget museums, train services are now banning the selfie stick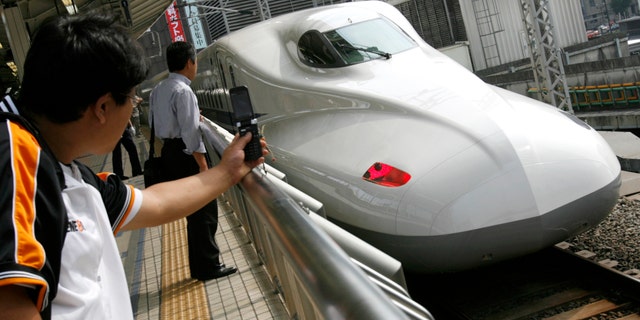 NEWYou can now listen to Fox News articles!
While temples and shrines are an obvious draw for tourists hitting Japan, the nation's iconic bullet train also gets its fair share of attention.
Before jumping aboard, travelers can often be seen grabbing a shot or two of the train's super-sleek front car as it pulls into the station. However, with the selfie stick growing in popularity, operators of the famously punctual service have decided to slap a ban on the device.
That's right -- if you want to grab a selfie with a bullet train, you'll just have to do it the old-fashioned way and stretch out your arm. Or, heaven forbid, ask a stranger to take it.
Related: Guns, explosives, and selfie sticks banned from pope's visit to DC
Judging by a new poster released by the train authorities, its marketing team has had no shortage of ideas about what might go wrong if you attempt to deploy your beloved extendable monopod close to the tracks.
Besides platforms, West Japan Railways (JR West) has also banned the stick in all of its station service areas, as well as on platforms for other train services besides the bullet.
JR West told the Japan Times that the selfie stick annoys other train users and could cause accidents and injuries if used improperly.
Related: Disney bans selfie sticks from its theme parks
The selfie stick has been picking up an increasing number of bans around the world at sites such as museums and sports stadiums, though JR West's ban is thought to be one of the first transport-related ones to be imposed.
Clearly not one to miss a trick, photographer Steve Sawitz recently secured funding for a more compact device that could help selfie fans skirt the ban. The Grip Dat is a cradle/quick-release monopod for your smartphone that doesn't extend, so if used discreetly should allow you to grab a rock-steady selfie instead of fumbling about with your phone in your hand while trying to grab the shot.