Flying a drone with heat vision is like piloting your own personal Apache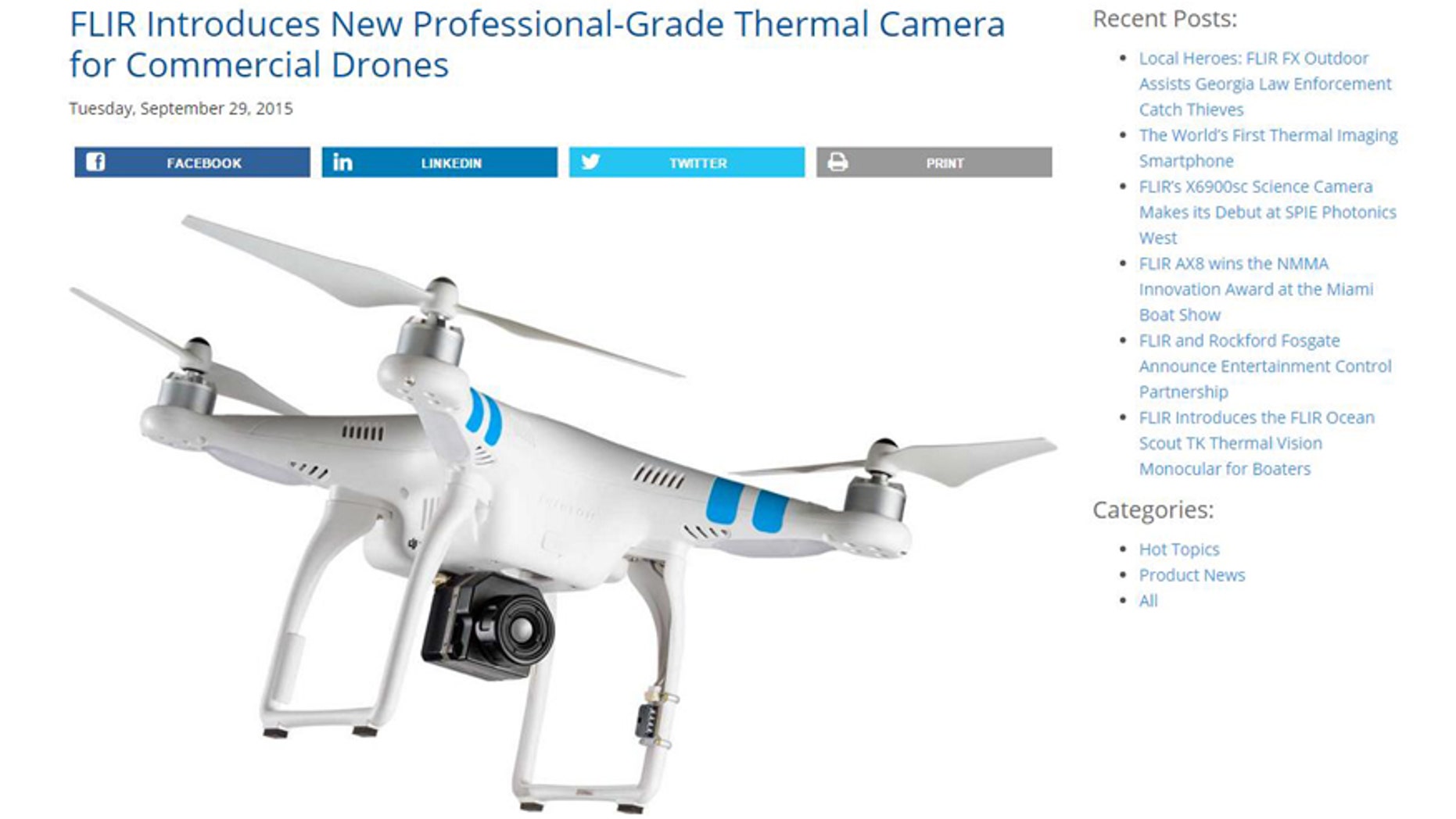 The FLIR Vue Pro isn't your average thermal camera. Rather than being built for your smartphone or a rifle scope, this high-tech heat vision cam is designed to hitch a ride on your drone and go airborne.
Sure, it's not the most practical thing in the world, and you probably don't need one, but this camera's unique capabilities make it ideal for certain situations. The Vue Pro would be perfect for search and rescue, since it can be taken airborne and survey large swaths of land quickly. If you're a farmer, the FLIR Vue Pro could also be used for agricultural purposes, such as examining how irrigation is dispersing, or to detect diseased plants. And those are just the most obvious applications; the possibilities of this gizmo are only limited by your imagination.
In terms of design, the FLIR Vue Pro is fitted into a solid aluminum body, and uses a GoPro mount or threaded hole to attach to your UAV. It also weighs just under four ounces so, it won't sacrifice flight time or throw off your UAV's center of gravity. You can attach the FLIR Vue Pro right to your UAV similar to how you would attach a GoPro camera, or install it with a gimbaled mount and transmitter to broadcast a live feed. However, unlike a GoPro, Flir's camera doesn't boast an internal battery, and is instead designed to power with a portable charger through its mini-usb connector, or with power from the UAV through its 7-pin in-camera port -- as long as the power supplied does not exceed 6 volts.
You control the FLIR Vue Pro's camera settings via its phone app, and it communicates via Bluetooth. You can select from multiple color pallets, orient or invert the image depending how it's mounted on your UAV, select scene presets, and much more. Flir also offers a range of different lenses you can purchase for the camera, depending on whether you need a wide, medium, or narrow field of view. The controls on the FLIR Vue Pro itself are simple; as there are only two buttons -- a Record button, and a Bluetooth button that you press to pair with your mobile device.
As for the tech specs, the FLIR Vue Pro uses an uncooled compact thermal sensor with a resolution of 640 by 512 pixels, and records at 30 frames per second for smooth video. This is actually quite good for a thermal camera, as it not only makes heat signatures easy to spot, but also makes the source easy to identify.
While the FLIR Vue Pro is targeted for professional applications, flying around with a thermal-camera equipped UAV does feel pretty amazing. If you install it with a live-feed transmitter, you can clearly see where you're going at night and avoid obstacles. With the FLIR Vue Pro, just being able to see in the dark, and from high above, increases the already high fun factor of flying a UAV even more.