Find scholarship funds online for your student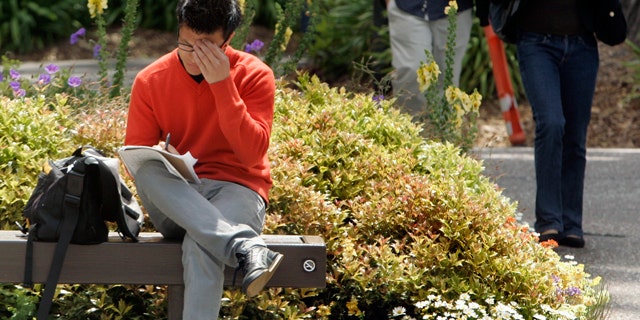 NEWYou can now listen to Fox News articles!
Many families simply can't afford to pay tuition. Yet an increasing number of students are graduating -- or even walking away from college early -- under a staggering weight of student-loan debt.
Before letting anyone in your house jump on the debt train, you'll want to do all you can to search for scholarships. Once again, the Internet opens that possibility.
Millions of scholarships are awarded every year. And they're not just for straight-A students and exceptional athletes. The variety and purposes of scholarships will surprise you. For instance, did you know there are scholarships for caddies, knitters and duck callers?
Unfortunately, a lot of deadlines have passed for students entering college this fall. Most application deadlines are during the regular academic year, so the first deadlines were back in September. But there are some opportunities out there if you act fast.
Even better, if you have a sophomore or junior under your roof, you may think it's early, but it's not. Start that search now, even for freshmen.
Let's single out some of the good scholarship resources on the Web. FinAid is a wealth of knowledge about the scholarship process, and it links to lists of scholarships available for your student. CollegeScholarships also has a lot of information. Students can also browse scholarships by state, subject, sport, ethnicity and more. The site also gives out its own scholarships - there's even one for young bloggers.
For broad searches, FastWeb is a good choice. At that site, your student fills out a personal profile, which then generates scholarship hits. You can also create a personal calendar with important scholarship application dates. Students can choose to receive email notices about chosen scholarships. Zinch also has students fill out a profile, including interests. Be sure to give as many options as possible to find appropriate scholarships you may never have imagined.
Student loan company Sallie Mae runs College Answer. After creating a personal account, the site will match the student with applicable scholarships. It says it has a database of more than 2.9 million scholarships.
You can also let the company that oversees the Scholastic Aptitude Test do a scholarship search for you. The College Board will show you scholarship matches based on submitted information.
Here's a different way to see scholarship opportunities. Scholarships360 is a blog that features a different scholarship every day. One benefit of this site is that it is particularly sensitive to upcoming deadlines.
Major companies also give out scholarships - some for employees and their families, and some for the general public. For example, Nordstrom gives out a $10,000 scholarship to students in 30 states where the company has stores. Walmart offers college money to employees of Walmart and Sam's Club and their dependents.
Of course, there are always the offbeat awards. If you go to your senior prom in an outfit made of Ducktape brand duct tape, you may win an award of up to $5,000. Google awards $15,000 if your student can redesign the Google Doodle logo to reflect his or her own goals for the future.
Many scholarships are targeted to certain groups -- race, ethnicity, sex, disability, religion and special interests. How special do those specialty scholarships get? Well, is your student a female 5 feet 10 inches or taller? Or perhaps you're searching for your son who is over 6-foot, 2 inches?
Check out the Tall Clubs International scholarship. On the other end of the ruler, the group Little People of America offers a scholarship for those no more than 4-feet 10-inches tall.
If you're looking for additional guidance along with your scholarship search, visit CollegeToolkit. The site offers questionnaires to help suggest career paths, and to help select a college, too. It then offers a scholarship search based on your profile.
One important caveat: The need for scholarships is great, so of course criminals take advantage of that. Don't get duped by scam scholarship offers. These could result in stolen money or identity theft. You can find good information on how to spot scholarship scams at CollegeScholarships.org and the Illinois Attorney site.
This only scratches the surface on the subject of scholarships.
So gather your information, start your searches and watch those deadlines. And, most of all, good luck in finding that perfect scholarship!
Kim Komando hosts the nation's largest talk radio show about consumer electronics, computers and the Internet. Get the podcast or find the station nearest you at www.komando.com/listen. Subscribe to Kim's free e-mail newsletters at www.komando.com/newsletters. Copyright 1995-2012, WestStar TalkRadio Network. All rights reserved.