Feds launch new app to enlist public's help in catching sexual predators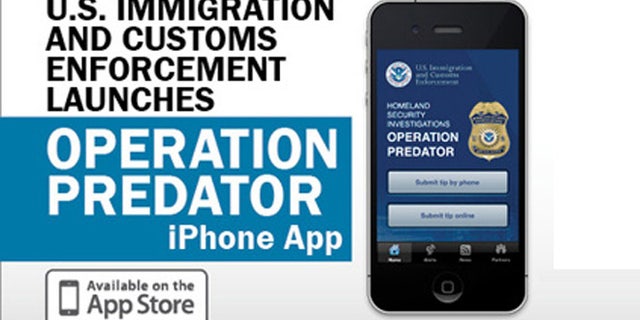 A new smartphone app is enlisting the public's help in tracking down sexual predators. The U.S. Immigration and Customs Enforcement's (ICE) Homeland Security Investigations (HSI) launched the first-of-its-kind app today in hopes that people will leave anonymous tips that will help them catch dangerous criminals.
"At the end of the day we want to get the bad guys," ICE Director of Public Affairs Brian Hale said in a press release. "And if this application helps us get a tip that leads to a child predator being taken off the street to protect our children then it's going to be well worth the effort."
Operation Predator reveals to users a list of fugitives the Department of Homeland Security is searching for. Information on all of the fugitives is listed in the app and the ICE hopes the new technology will help lead to more tips regarding unsolved cases.
"The creation and launch of this application provides ICE another useful tool to reach the public," Hale said. "We recognize that people receive a great deal of information on their mobile devices and we are hopeful that this app will encourage them to submit tips about suspects and to learn more about our work investigating child exploitation crimes."
Currently, the Operation Predator can be downloaded from Apple's App Store or iTunes. The ICE is also hoping to expand compatibility to other smartphones soon.
Suspected child sexual exploitation or missing children may be reported to the National Center for Missing & Exploited Children, an Operation Predator partner, via its toll-free 24-hour hotline, 1-800-843-5678.