Falcon Shield launches electronic attacks to take control of drones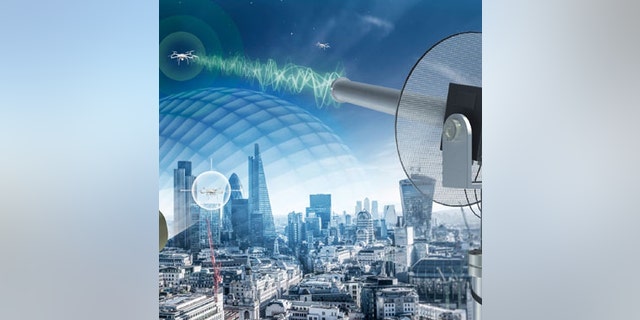 A new technology unleashes electronic attacks on enemy drones, enslaving them to its will.
Made by Finmeccanica-Selex ES, the Falcon Shield technology lets the good guys gain control of drones and land them safely.
Related: Anti-drone shoulder rifle lets police take control of UAVs with targeted radio pulses
Recently unveiled, Falcon Shield finds, fixes, tracks, identifies and defeats drones. Mini-drones are becoming a growing security concern, as evidenced by the quadcopter drone that crashed onto the White House grounds earlier this year.
The threat
Small-sized drones are cheap, widely commercially available, simple to assemble and easy to fly. These micro drones can be hard to detect and stop and could be used to attack targets by carrying threats like explosives or chemical and biological weapons.
The Falcon Shield is an adaptable system that can be deployed to protect VIPs. It could also be used to protect military convoys and patrols. Falcon Shield doesn't need to be at a fixed location, and different versions of the technology can be carried by an individual or a vehicle.
On a much larger scale, Falcon Shield can be used to protect a military base or a skyscraper that acts as headquarters for a big corporation.
Related: The laser cannon that kills drones
Falcon Shield monitors an assigned area to detect potential threats and protect a specified location by going through five stages of engagement.
In the first stage, Falcon Shield locates both the drone threat and the ground station controlling it. The tech then uses this data to guide the next stage. To "fix" the target, radar and electronic monitoring work together with an electro-optical infrared camera.
The camera and radar then track and identify the threat. In the final phase, Falcon Shield focuses on defeating the drone. When Falcon defeats a drone it doesn't just jam it. It seizes control of the drone.
How the technology takes control of the drones is shrouded in secrecy … but take control it does. Say a micro drone is targeting a VIP, for example, the good guys can fly it away from the target. They can force it to land at a safe location where a team can investigate and fully neutralize the threat.
Ballet dancer turned defense specialist Allison Barrie has traveled around the world covering the military, terrorism, weapons advancements and life on the front line. You can reach her at wargames@foxnews.com or follow her on Twitter @Allison_Barrie.