Facebook promises big update to one of its biggest products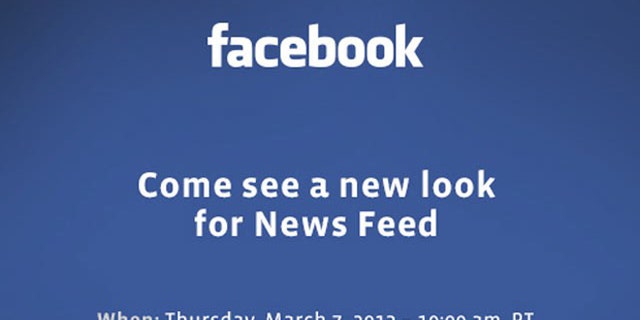 NEWYou can now listen to Fox News articles!
Facebook certainly isn't spending any time sitting around.
After starting a rollout of its new search engine on Facebook, Graph Search, the company is now teasing an event next Thursday that looks like a big update to the News Feed.
Hard to argue that it's anything less than a design update to what is essentially Facebook's home page. "Come see a new look for News Feed," the invitation says.
News Feed ads have turned into a significant business for Facebook. On Facebook's last earnings call, CEO Mark Zuckerberg said the addition of advertising had barely affected user engagement. "The numbers turned out better than we expected," he said.
So it seems only natural that Facebook would want to find a way to better monetize its users in its News Feed. What isn't clear is how much of the update will focus on the mobile news feed and how much will focus on the desktop feed. Mobile will likely be a big focus given how big it is for Facebook: Mobile revenue was about 23% of ad revenue for fourth quarter 2012.
One new experiment Facebook is running is app install advertisements, a business that also appears to be doing very well. Since mobile App Install ads launched, 20% of the top-grossing iOS apps are using it, Zuckerberg said on the call.