Facebook brings 'chat heads' feature to its iPhone, iPad apps in update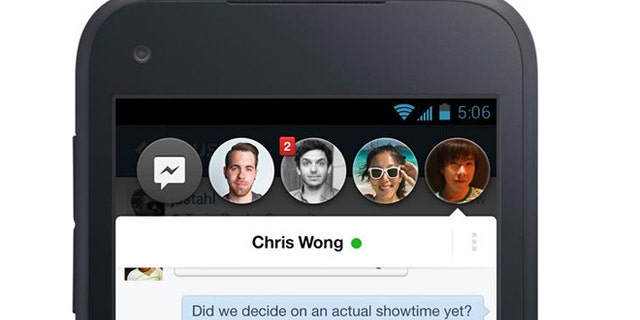 NEW YORK – Facebook has updated its iPhone and iPad applications to let people keep using its chat feature even when they are doing other things, such as reading friends' updates.
Facebook also said Tuesday that it's bringing its "chat heads" feature to its Apple apps. It's called chat heads because friends' profile photos pop up when they send you a message.
Chat heads is part of a broader integration that Facebook is doing with a new Home app on some phones running Google's Android operating system.
Unlike with Home, iPhone and iPad users will have to stay inside the Facebook application to use chat heads. The update is already available in Apple's App Store, but Facebook says the chat heads feature will roll out in the coming weeks.
The new Android product, which can reside on the home screen of phones powered by Google's operating system, is a family of apps designed around people's Facebook connections. Rather than see a set of apps for email, maps and other services on the screen, users will be greeted with photos and updates from their Facebook feeds.
"We think this is the best version of Facebook there is," Zuckerberg said.
Zuckerberg says users can have an experience on Android phones that they can't have on other platforms. That's because Google makes the software available on an open-source basis, allowing others to adapt it to their needs.
The move coincides with rapid growth among the number of users who access the social network from smartphones and tablet computers and Facebook's aim to evolve from its Web-based roots into a "mobile-first" company.
"What Facebook wants is to put itself at the front of the Android user experience for as many Facebook users as possible and make Facebook more elemental to their customers' experience," said Forrester analyst Charles Golvin.