Facebook adds 'want' button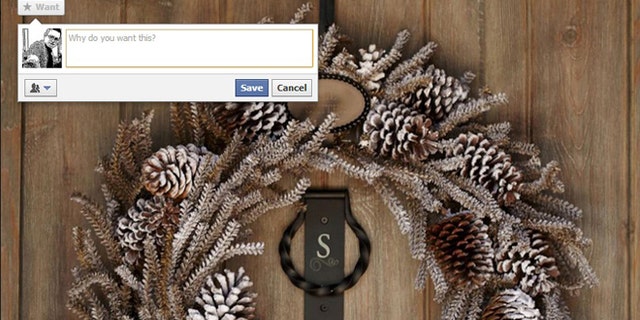 NEWYou can now listen to Fox News articles!
Sure, you like it. But do you want it?
Billion-user strong social network Facebook added a partner to its omnipresent "Like" button on Monday: a "want" button for retailers.
Visit the Facebook page of stores that have enabled the new feature, such as Pottery Barn, Victoria's Secret, Neiman Marcus, and more, and you'll be able to add items from the company to a wishlist. The items you tag will show up on your timeline.
"Add things you want to your wishlist sol you can share them with friends and find them on your timeline later," the button explains.
The new button, one of a pair included in a "Collections" feature, won't be a plug-in or available outside of the Facebook site for now. It will be viewable by Facebook users on their News Feeds, according to a story on PCMag.com.
A Facebook spokeswoman told FoxNews.com that the button is meant to help business engage with customers.
"We've seen that businesses often use Pages to share information about their products through photo albums. Today, we are beginning a small test in which a few select businesses will be able to share information about their products through a feature called Collections."
"People can click through and buy these items off of Facebook," the company said.
It's unclear whether Facebook hopes to take a slice of any revenues.