E-MAIL WAR: Facebook Launches 'Gmail Killer' -- AOL Jumps In, Too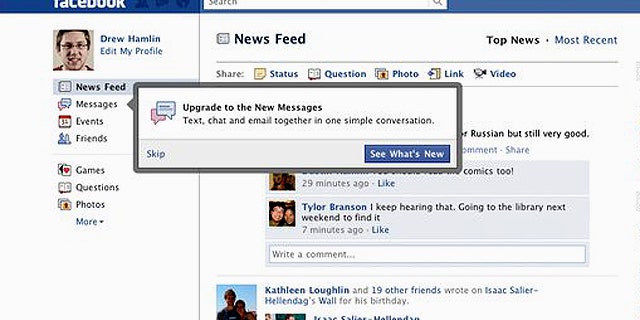 NEWYou can now listen to Fox News articles!
Facebook has launched a full-frontal assault on the popular Gmail service. And Google better beware -- the e-mail wars are here.
At a Monday event at company headquarters in Palo Alto, Calif., social-networking giant Facebook unveiled a messaging service to compete directly against Google's Gmail product -- a service allegedly referred to inside Facebook as a "Gmail killer."
But it's not what you might think, said company chief Mark Zuckerberg.
"We don't think a modern messaging service is going to be e-mail," Zuckerberg said, explaining that his company's new service is modeled more after chat than after a straight e-mail client. One of the e-mail's key flaws, after all, is that it's not real time. And messaging needs to be immediate, he said.
"I'm not saying you need to send an e-mail and it shows up at the speed of light," Zuckerberg clarified, but the speed of instant messaging or text messages on cell phones is dramatically different from e-mails.
"We can do better," Zuckerberg said.
YouDecide: Will You Switch to an @Facebook E-Mail Address?
While the new product will incorporate @facebook.com e-mail addresses, Zuckerberg said it will be more than just Gmail competition. It will offer three key features other e-mail services lack: seamless messaging across a variety of platforms, including SMS and texting; conversation history across those platforms; and a "social in-box," meaning the company can filter the in-box just to include messages from friends.
"People should share however they want," said product manager Andrew Bozworth.
The service will support attachments and connect the disparate messages users send from their cell phones, their iPads and their computers through a new piece of software that routes all those bits of data into one Facebook in-box -- it's the biggest engineering team Facebook has ever assembled, Bozworth noted.
Meanwhile, as Facebook and Google fight for world domination, AOL, the former titan of e-mail, is returning to the limelight. Since its difficult merger with Time Warner, the one-time owner of the e-mail world is looking to re-ignite its reputation and user base with Project Phoenix, an overhaul of the company's online e-mail service in an effort to keep up with the new kids on the block.
The full launch of Phoenix isn't expected to occur until 2011. The current limited beta test -- applicable to a fraction of the site's 30.8 million webmail users (itself a paltry number when thrown up against Microsoft's 361 million or Google's 193 million) -- is a zippy new rehash that focuses on tighter integration with external e-mail clients splashed across an almost Gmail-like interface.
Likewise, Facebook's new messaging service will not roll out immediately; it will start with a select group of users, Zuckerberg explained. But there won't be a land-rush on @facebook e-mail addresses anyway, he said.
"We don't expect anyone to wake up tomorrow and say, 'I think I'm going to shut down my Yahoo or Gmail account and switch to Facebook,'" Zuckerberg said. Instead, the company thinks that gradually over time, more and more people will communicate across the Facebook platform.
Zuckerberg dismissed notions that "Project Titan," as its service is called, is the "Gmail killer" it's been dubbed as in the press. But he also said that just as high school students are forgoing e-mail in favor of shorter, more immediate chats, more people down the line will send IMs and chats because it's simpler, "more fun" and more valuable to use.
Though e-mail is still a primary form of communication for older adults, recent studies suggest this is not the case for young people. Text messaging has surpassed face-to-face contact, e-mail, phone calls and instant messaging as the primary form of communication for U.S. teens, according to a 2009 survey from the Pew Internet & American Life Project.
E-mail use was the lowest -- only 11 percent of teens said they use it every day to interact with friends, compared with 54 percent who said they text daily and 30 percent who said they use landline phones.
"If we do a good job with that, someday people will start to say, hey, this is the way the future should work," Zuckerberg concluded. "Maybe E-mail just isn't as important as it once was."