Does this picture show the Loch Ness Monster?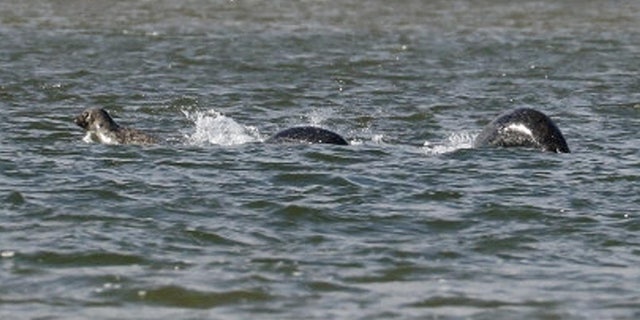 A picture snapped by an amateur photographer in Scotland has created a huge splash because it appears to show the fabled Loch Ness Monster.
The photographer is 58-year-old Ian Bremner, a worker in a whiskey warehouse who was in the area looking for red deer, Britain's South West News Service (SWNS) reported. On Saturday, he snapped the photo of what some say is Nessie when it— or whatever it is in the picture— was close to the coast between two villages on the southeast side of the long lake.
While there's no definitive word on what's in the image, it certainly shows something: perhaps a single creature of some kind, or maybe three seals, as some have suggested. The Scotsman newspaper has even headlined an article about the picture: "Most convincing picture of the Loch Ness monster ever taken?"
"This is the first time I've ever seen Nessie in the loch," Bremner said, according to SWNS. "I would be amazing if I was the first one to find her."
His sighting is just one of over a total 1,000 reported sightings of the mythical creature— the idea of which has captivated people for years and years.
Purported sightings of the Loch Ness Monster continue to be hotly debated, with some described as hoaxes or just caused by natural phenomena, like logs.