Digital clues could lead to Foley's ISIS killer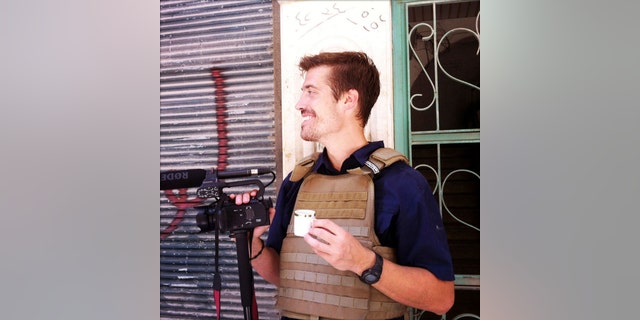 NEWYou can now listen to Fox News articles!
Digital clues could provide vital details to intelligence officials as they investigate the brutal killing of U.S. journalist James Foley, captured on video by Islamic State militants.
Foley was beheaded in a gruesome video posted on YouTube Tuesday by Islamic State -- also known as ISIS -- which was later taken down by the video sharing site. The U.S. intelligence community described the video as authentic on Wednesday.
A U.S. law enforcement source told FoxNews.com that a forensic "drill down" is under way on the killer, who is believed to be British. Investigators are trying to find out whether the individual was already known to the FBI, which has tracked dozens of suspected jihadists who have traveled to Syria.
The FBI has not yet responded to a request for comment on this story from FoxNews.com.
Technology could play a key role in identifying the executioner in the video, according to Dr. Afzal Ashraf, consultant fellow in international diplomacy at the Royal United Services Institute, a London-based defense and security research organization.
"It's like any other crime; there's lots of little clues, and if you know where to look for them, they can help you solve the crime," the counterterrorism expert told FoxNews.com. "It's like looking for fingerprints, it's the same thing."
Voice analysis, in particular, could prove crucial.
"Linguistic technology is very good nowadays at matching voice characteristics," said Ashraf. "If [the killer] has got a criminal background, there's a very good chance that he could have been interviewed by police." Voice recognition software could be used to compare the militant's speech in the YouTube video to police recordings, he explained.
The expert also noted that the killer's accent could prove valuable clues as to his identity. "There are speech experts who specialize in accents who are very good about identifying this information, both in terms of geography and ethnic group," he said. "Your voice is partly shaped by your ethnic background."
In the video, Foley's killer speaks in an apparent British accent, possibly from London or Southern England. U.K. Prime Minister David Cameron condemned the killing as "shocking and depraved" in a statement released on Thursday and British intelligence officials are investigating the video.
Ashraf told FoxNews.com that experts could scan the video for distinguishing features in the landscape behind Foley and his killer in an attempt to find the location. Shadows could provide clues as to the time of day when the murder took place.
Digital forensics can also deliver valuable location data. "You can sometimes track the location of the original upload," said Ashraf. "If it was uploaded in an Internet café somewhere, that gives you a pretty good clue."
However, Ashraf thinks that the killer will most likely be identified by a family member, friend, co-worker or acquaintance. "There's more chance of him being recognized by someone who knows him," he said.
Follow James Rogers on Twitter @jamesjrogers