Despite Deaths and Injuries, Internet 'Planking' Fad Continues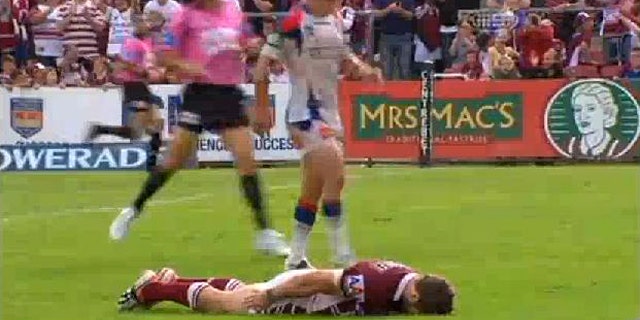 Planking, the Australian craze of lying face down stiff in often bizarre places for a photo op, claimed another victim when a man was critically injured after being thrown from the roof of a moving car when his planking went bad.
The 20-year-old New South Wales man was in an induced coma after falling head first in Invernell, Channel 9 news reported.
He is still luckier than a Brisbane man who fell to his death from a seventh-floor balcony in a planking stunt on the railings on Sunday.
The fad took off when rugby league star David "Wolfman" Williams -- a renowned planker -- showed off his skills on live television after a try in March, lying stretched out on the ground. The scene has been taken up by YouTube, where it has gotten nearly 121,000 views. For added emphasis, he repeated the stunt on Channel 9's anchor desk.
"People are trying to out-do each other by planking on structures or in precarious positions, putting themselves and others at risk," said Queensland police in a statement.
"The potential for disaster increases as more and more risks are taken to get the ultimate photo." The obsession started off innocently enough, with plankers targeting landmarks, parked police cars, dishwashers or each other. But they gradually got extreme, with smokestacks, industrial machinery, animals and railway tracks all becoming planking sites.
Despite the accidents, the craze shows no signs of abating.
The Planking Australia Facebook page has 146,000 followers, a remarkable figure for a country of just 22.5 million. By contrast, the "100,000 that Hate Planking" page has managed to find just 350 followers.
As one fan put it on Facebook: "Planking ... No brains or skill required!!!"
What's next? Some say "pillaring," the vertical version of planking.